Control plan checklist is functional check points of quality control that may implement in order to assure quality standards are match for particular product. The checklist may used to verify the elements of control for the control plan is according to system requirements.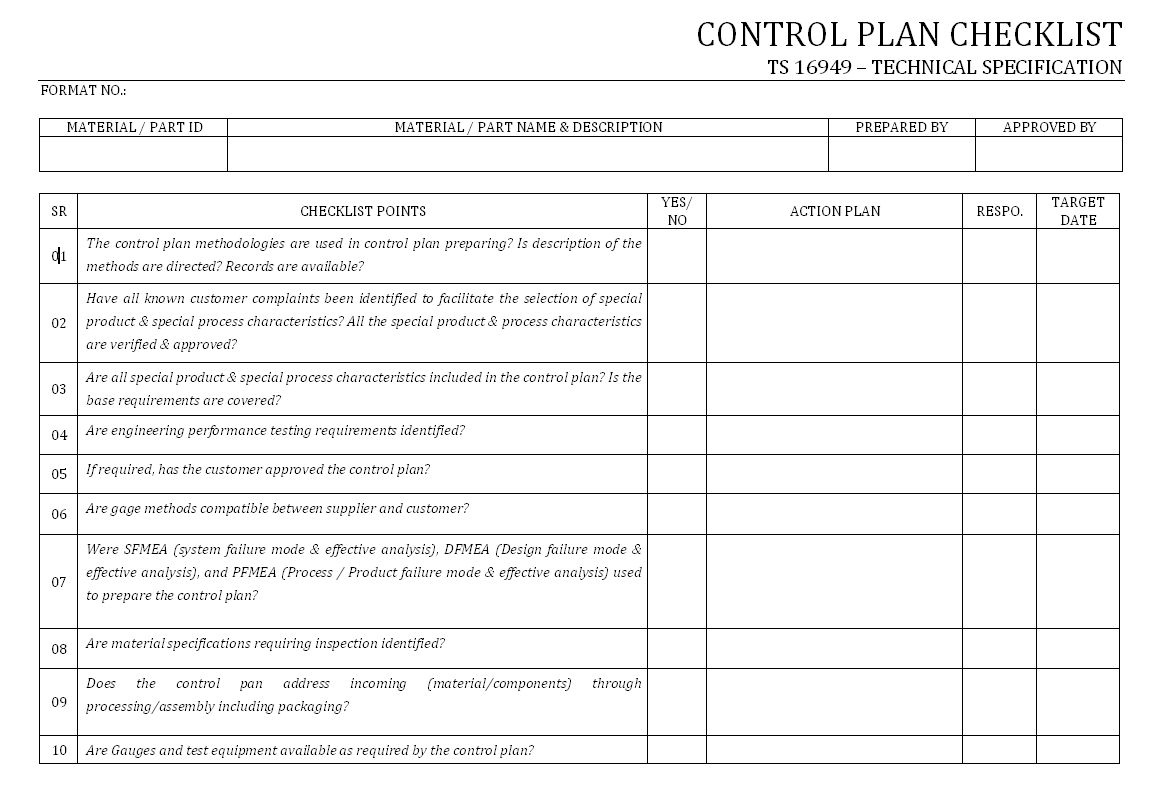 Control plan is major document for the manufacturing process, process sequences and interactions. Manufacturing process troubles, mistakes that are by human or machine, all the possible manufacturing process troubles, mistakes and concern issues can solve through control plan, control plan is a planning of the controlling on each process and stages that involved in manufacturing stages. All the concern stages are also directly or indirectly effect on product quality hence the controlling on each stage and its activity should fool proof for errors.
On base of the control plan mistake proof planning is possible to controlling on manufacturing process, hence control plan is prime document for the manufacturing industry. For the control plan formats and its structure's requirements should be unique that all the concern issues, risks and controls are possible to eliminate, control plan structure and what matters should involve in the control plan are need check in control plan. For the auditing control here as given below checklist for the perfect checklist that used for control plan
What to check in control plan?
Framework
Check the overview of the process. You have to check the plan that employ to manage change requests, what role will be involves, what the procedures will be and how control will measure the impact of change request.
Process
As per control plan, check the description of process, which plan to employ to manage change requests. what is the process and how it will be step out?
Role & Responsibility
Control plan may describe the management process, roles & teams details.You have to check the what will be that, and all the related processes are manage accordingly?
Communication strategy
In the description of communication strategy, control plan will show the method are use for communication. The check point may help to verify the actual process to comply strategic plan.
Procedures
Against the each activity, control plan will show the specific procedure details. you have to check each activity are complying the procedure by the team?, and check there all are assessments are accordingly?. Focus on the mechanism of the procedure.
Impact Analysis Approach
There are one of the important column you will found in control plan is impact analysis. The check point can help to verify the process used to assess the impact of each activity.
EXAMPLES, SAMPLES & FORMATS: Download
Related: