Controlled Equipment management
The purpose of this process is to define the responsibilities and activities required to ensure equipment used for product / process verification is controlled as standards requirements.
The organization can prepare and deploy procedure for controlled equipment management for maintain controlled system. The procedure help to ensure that the inspection & testing equipment are used for product & process verification with controlled manner. The procedure describe requirements and method for how to equipment properly inspect and calibrate as per standards and specifications.
Calibration of equipment, as per standard requirements
Fully controlled equipment perform better in verification process of product and process. The accurate results can be achieve if the equipment are properly calibrated. Ensure that calibration process is conducting as per frequency and internal defined in standard system. Acceptance of calibration is depends on international standards requirements. Hence each calibration process must be followed it's requirements.
The quality manager is responsible for select suitable equipment to perform measurement task as appropriate requirements. He is also responsible for ensure accuracy and precision of measuring equipment. Also responsible for calibration, maintenance of equipment, verification and control.
Equipment use in process
Each equipment should proper safeguarded. Define the standard use procedure that protect from the damage or deterioration during maintenance or any other processes. Ensure that, every user of equipment is registered and approved for use to particular process and product measurement.
The fully controlled equipment management should be concern with all existing and new equipment maintained for inspection, product measurements. Equipment can used for various processes should controlled, monitored and calibrated. Each device which having a calibration due date should immediate remove from production lines. Quality person determine the calibration is to be done by any reliable and approved mediums. The maintenance and quality team are also verify and ensure the equipment before used.
Managing Calibration
Quality manager is responsible for identify the equipment concern processes which are used in measurement of product and processes. The quality manager should also responsible for preparation of procedures, guidelines and instructions. Same the monitoring on field levels to effective implementation and documentation of processes. Where calibration, used controls, verification and approvals, equipment maintenance are important parts that needs to maintain. See the example format of controlled equipment register: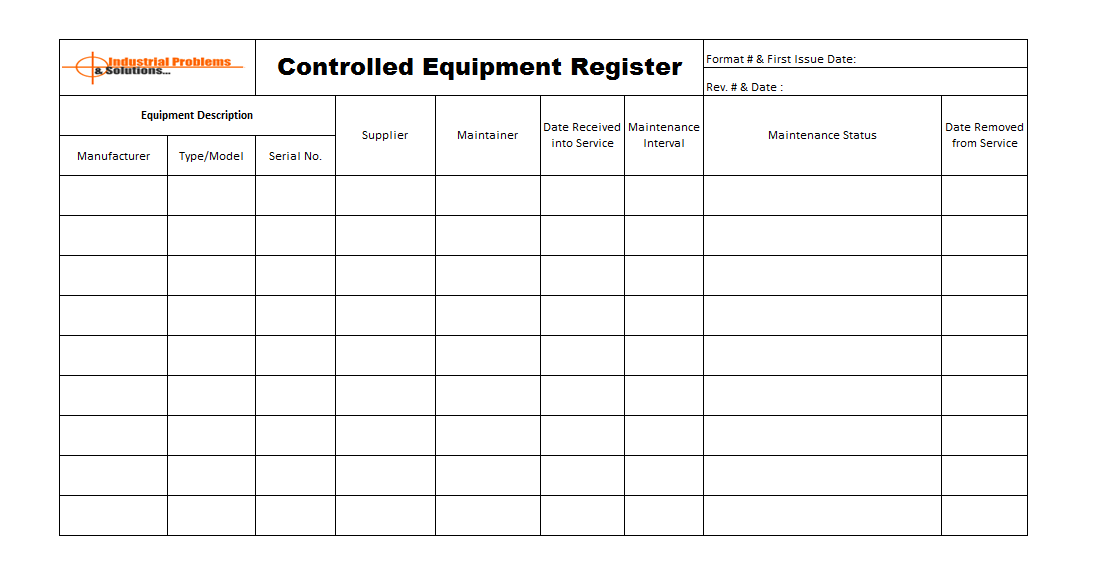 In the controlled equipment management, calibration is important factors that raise the non-conformity of product or process. In case of non-conformed equipment are used in the procedures. If it's the confirmed that inspection & test equipment having non-conformity that the immediate devices / equipment should remove from processes. Verify the previous records of measurements to ensure that various occurred. Quality manager needs to immediate appropriate corrective actions in line with subsequent non-conforming products.
—————————————————————————————————
Download format in word document | Excel Sheet | PDF format
—————————————————————————————————