Customer Specific Requirements Matrix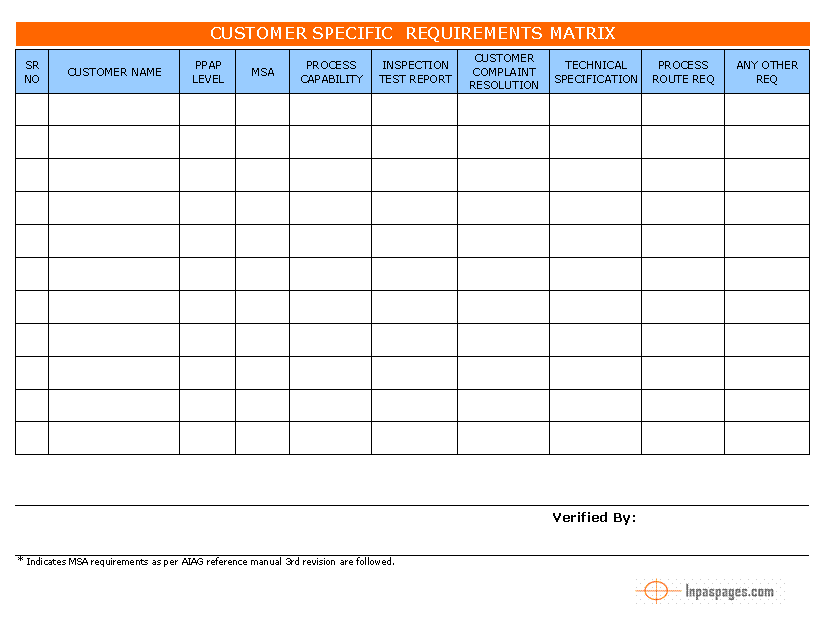 To understand the specific requirements matrix, let's see what can be consider requirements that customer can demands? And what kinds of the customer demands or requirements are consider as specific. As on base of supplier's previous experienced with customers & routine supplies than extra things are request by customer that never asked before that requirements are consider as specific requirements, No its not a complete true, actually customer specific requirements are consider on base of the customer's requirements those are affect the customer's applications & business that concern with quality of the products, some applications are very critical that required special measurements & Analysis to approve for the assembling, most of automotive customers requirements are almost specific. Reason is very state that application of the product and its fitting criteria's required tolerances of approval is very close that need to analysis of the product to enhance quality with minor or zero tolerances with compare customer's required tolerances, there are no space for huge variation, application requirements variation of product an be very low that critical to maintain for supplier, that should be need care at all the parameters, instructions and its follow-up strongly.
Customer Specific requirements matrix, base requirement is PPAP ( Part Production Approval Process ), it's a specific requirement, reason that customer buy the material for the assembling with specific design that can possible are done in assembly area, to match with design of the customer engineering shop, product's first part will be going to approval for,. Customer's engineer are check as design provided to supplier, match all possibilities to understand for the further requirements, changes or modifications to finalized product.
The customer specific requirements matrix can we develop when we really fully understand the customer specific requirements or customer's end application's requirements. the product we are manufacturing is installed / used at any particular part or utilize for specific purpose of course against the customers must ask for unique requirements to match its requirements queries. To understand the customer specific requirements, needs to verify what really customer expect? See below simple customer specific requirement checklist.
Customer Specific requirement checklist: for Automotive industry (considered requirements of ISO/TS 16949)
It is important that, utilization of accredited laboratory facility should be specified by as per government approved certifying body.
To be verify, is customer approved sub-contractor service to be utilized? The approved vendor list index such information.
Most important is transportation mode for shipping the materials should be specified, where containers / or and any vehicle type / or and specified as surface transportation.
Some analytical and statistical details that possible to demand by customer which is conducted internally for process and activities, like control plan, PFMEA, PPAP (PPAP is widely recommended and used in automotive industry, in with some customers are demand as necessary requirements)
Some customer is demand the detailed information about traceability requirements.
The stability of processes: ongoing process capability requirement should be specified; most customers can ask for it.
It should be clear with customer specific requirement, PPAP submission and sample size, grade and specification should be identified and confirmed from customers.
Is there customer specified method for handing of complaints? Specified format for responding like 8D format, most customers are preferring standard formats but some customers are expecting some unique requirements as its application requirements.
Specific packing and labeling requirements should be specified. Generally packaging and labeling requirements mostly different for single product from different customers, so it is very important to specific requirements are collected and approved from customers.
Some other requirements like, MSA approval requirements, shipping notification, quality records and reviews, inspection reports, special characteristic and its symbol identifications, internal quality auditors' qualifications, non-conformance details etc.
International standards – requirements mostly ISO / TS 16949 requirements are Measurement system Analysis are consider as primary requirement for the automotive applications manufacturers and same for the supplier chain that provided material to OEM & automotive applications assembling, supplier chain is also need to update with same technical specification which is automotive industries are follow.
To understand all the required filed that you can download customer specific requirements matrix as below:
—————————————— Download ——————————————
—————————————— Download ——————————————