Document record checkout sheet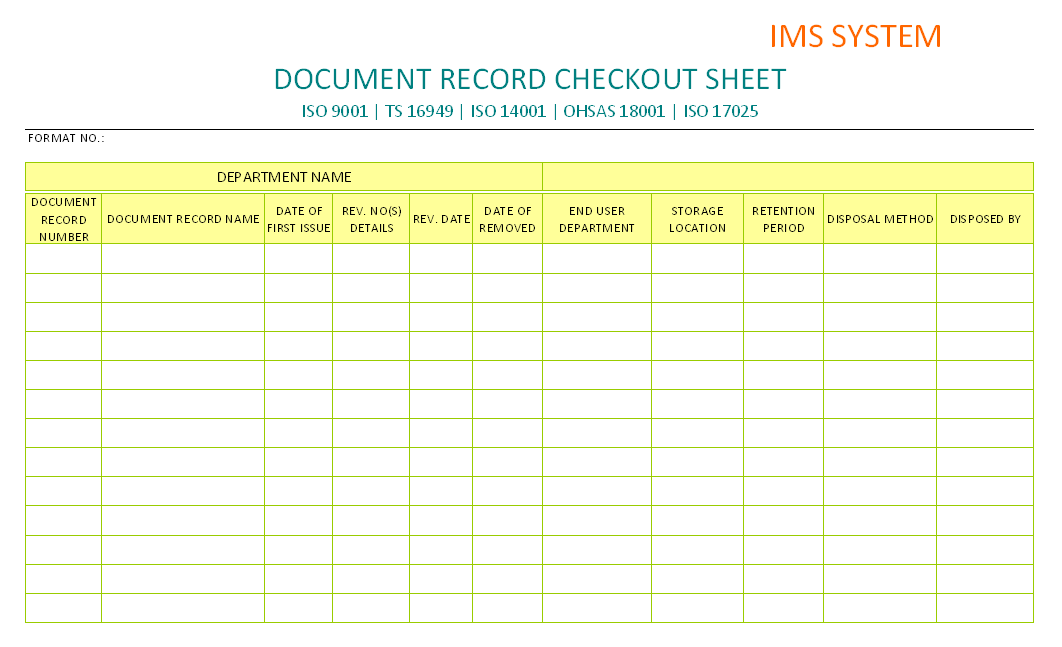 Document record number is defined by IMS system, internal quality management system representative in sequence for tracking and monitoring, recording in serial & used by end user department.

Document record name – Each document name as per internally end user department used for the processes.

Date of First Issue – Date of issue first time when document is prepared and issue with document unique number by management.

Revision number Details are used for the reference details, when any amendment are done during the processing, errors or any other reason document format is changed then document number is revised and insert document number & revision sequence are merged.

Revision Date – Date of revision proceed.

Date of Removed – when the document need to remove when the previous amendment, actual document remove from the system and replace it by new revision, in the company many departments are used the document that difficult to remove at the same time that removal process is immediately effect to remove document number on same date of the revision.

End user Department – Document that used by the department, part of the department, end users, there are also possible that in the same department there are so many parts, different documents are used.

Storage location – This particular document number which department is storage after the being records, location of the storage are important in that cases of the retention.

Retention Period – When the all the storage records for the particular document number are need to destroy, period of the disposal time.

Disposal method – How all the records of the particular document number is disposal, what method used for disposal, detailed information of disposal.

Disposed by – Name of the person who responsible for the disposal as planned or actual disposed by.
EXAMPLES, SAMPLES & FORMATS
You would also like to read: