Electrical appliances inspection document
Electrical appliances inspection document is established to ensure all electrical appliances are installed in various departments are working accurate condition.
Electrical appliances inspection document is prepared and used for recording all electrical appliances inspection process and to ensure that all electrical appliances are installed in the various department of the company, electrical appliances that used in manufacturing and supporting processes are currently in working accurately. Audit team is conducting inspection for the electrical appliances as per frequency defined, as safety point of view also electrical appliances inspection are conducted that is important part for the safety of the workplaces & peoples working around it. Electrical appliances inspection is routine processes that conducted once in month or every fifteen days that considered each electrical appliance installed in the department, areas that needs to proper verify and identify non-conformance with electrical appliances. Electrical appliances are important that also considered as hazards if proper installations or not proper covered that also needs to verify during inspection process.
Electrical appliances inspection documentation preparation and its procedure to conducting inspection process is established by electrical maintenance manager, and electrical maintenance manager is responsible for managing all activities concern inspection of electrical appliances, during the inspection process electrical appliances and its connections, functions and other details that cause malfunction or already damaged are consider as hazardous for workplace. Selected or qualified auditors are responsible to conduct each electrical appliance installed in workplace and the records are maintained accordingly. For the conduct inspection of electrical appliances, team is prepared checklist to managing each areas and department for some important and particular points that helps to determine actions on to non complied requirements. see picture as below given as example format for electrical appliances inspection checklist for education purpose: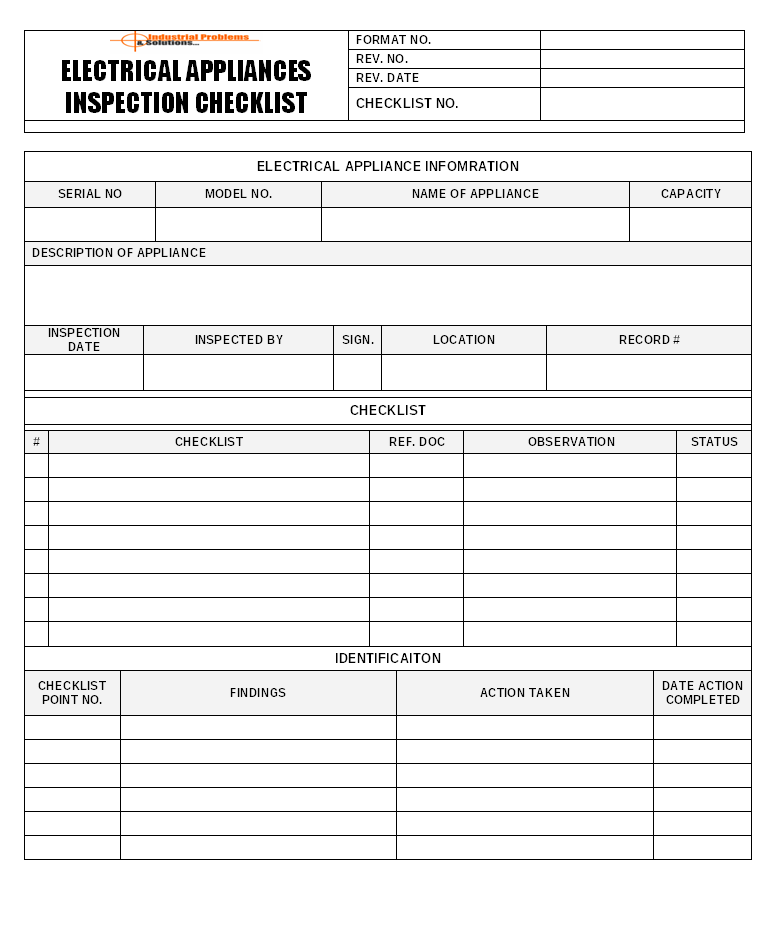 Electrical appliances inspection checklist is covered the entire department and each electrical appliance which are used for manufacturing processes and supporting processes, the purpose of the electrical appliances inspection checklist it managing each appliance to considering safety and functions of appliances in workplace. In the checklist points are managed like a verification of the appliances serial numbers, unit number etc.., should be visible to identify and monitoring on each appliance, general conditions of the unit are also needs to verify within should be each part are accurate, properly cleaned and without defect or damaged. There are also important to verification of the guards in each palace and secure where rotating parts are on appliances and electrical cables in good conduction and connection should secure, switches, and connection should be proper verified and inspected. Each appliance's connection should be proper connected and earth wire connections should be proper insulated. The documents are conducted and verified by authority and each noncompliance is conducted by concern department and electrical maintenance head to determine action plan for improvement.
——————————————————————————
Download format in word document | Excel Sheet | PDF format
——————————————————————————
Related Posts: