Electrical equipment register
In manufacturing unit, possible that numbers of the electrical equipment are used in production line and non production lines with different – different locations, in this case all the electrical equipment register is need to maintain for the properly handle all the electrical equipment with actuality and timely maintenance requirements. For the electrical equipment register below format are given for reference:
Unit / Workplace
Equipment ID
Electrical Equipment Description
Location / Area
Serial No.
Make / Model
Testing Frequency
Date of tested
Test Due date
Passed / failed – result
Record of maintenance
Repaired by
Inspected by
Signature
Electrical equipment register is very useful for the tracking of each electrical equipment and its requirements to maintaining, some equipment needs timely calibration, testing and maintain to the all equipment. This format is used and maintain by electrical department and also used for the international standard which is recommend management system evidence of part of maintenance and document system.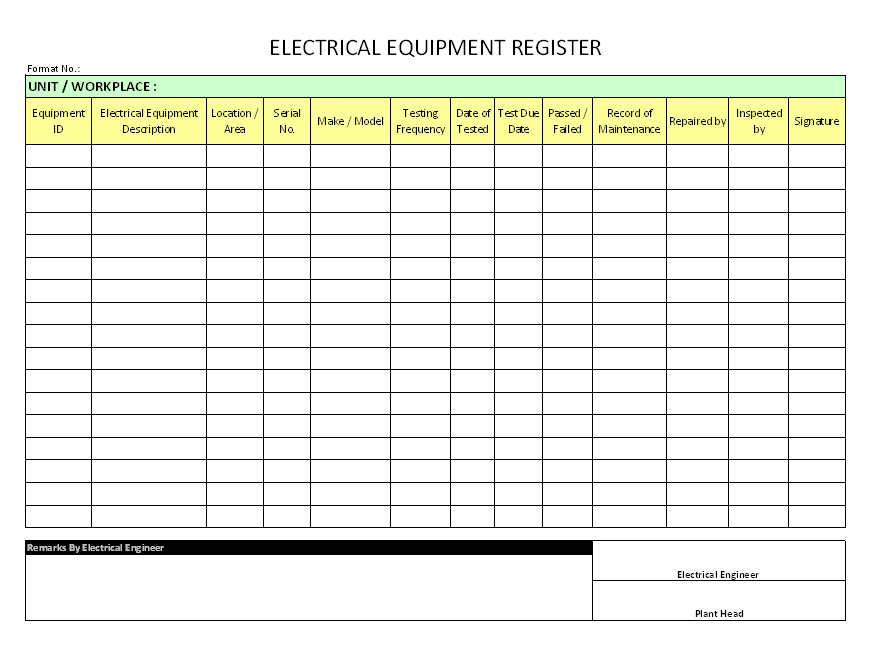 EXAMPLES, SAMPLES & FORMATS
You would also like to read: