New Employee Evaluation Report
What is new employee Evaluation?
New employee Evaluation is monitoring, observation on employee's activities to evaluate its effectiveness of training given for works, operations, discipline and company policy to enable adjust new employee in working environment & improvement individual as well as company productivity.
When any employee join company, if new employee having a experience or non experienced needs a training to compliance of requirement of companies working structure, working environment, operating that can be machine, equipment or any other devices that supporting manufacturing processes, discipline which is very important for the company and company policies for the customers, interested parties & public responsibilities.
How to do new employee Evaluation?
Evaluation is in sense of training evaluation. Evaluation of the training effectiveness is reviewed by observations, monitoring on activities the employee performance in undertaking the tasks.
Evaluation of new employee is the process that helps to identify individual employee strengths and weakness that possible eliminate by further training, in evaluation observers are give the task to employee for the completion, observers are monitoring its activities:
How material and situation handle by employee
What behave during the works
What kinds of operations can easier for employee and which is tough to completion
How new employee helps to co-workers & how ask for help to others.
How working discipline maintained during the task
There are dozen of basic conditions are monitor by observer team, and final test results are present against human resources and management, final test results are useful source of data in assessing the performance of the employee. All the training records, effectiveness records are maintain individually at human resource department for further actions.
Basic Structure of reporting human resources / Management – Show the Picture below shows the basic report format: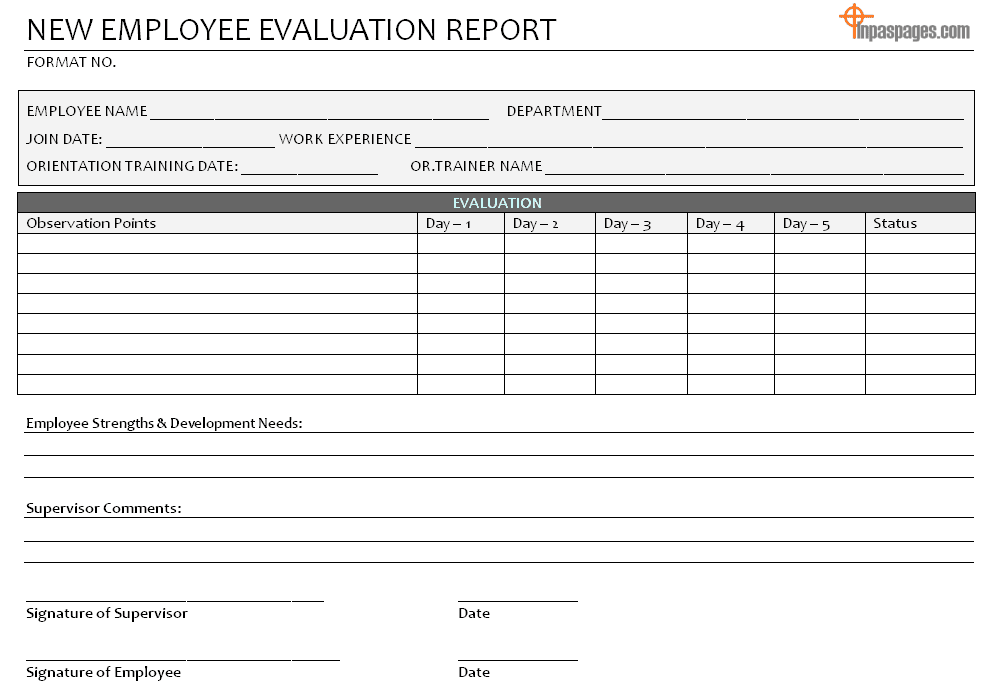 Employee is pivot character for evolution hence employee name & appointed department are need for evaluation, there also required when employee Join Company what is the first day that is joining date of company. Mostly employees are selected on base of past experience, in case employee is well experienced that it's good for management to handle the operations at its place. For the evaluation orientation training date & trainer name is very important, because on base of the orientation training date, all the evaluation are possible to effective, as per company policies companies defined evaluation time after orientation training are arranging evaluation of employee.
Here you can see five day evolution period, but as per company terms and working condition days are decide for best to evaluation, against the observation points ( its became task for employee) observer team are monitoring on activities of new employee performing at workplace. Day by day reports are maintained to understand facts of employee strength and weak side that enable to further training.
When the employee performing the task, observer team get the idea which side is strongest in works or provided task for complete in day, monitoring of each part of the works and employee performance observer team decide employee strengths and development needs that is further training.
Only observer team opinions are not considering in the evaluation report, but observer team is ask to supervisor about new employee's behavior, Task performance, terms & policies of company and discipline to judge correct, on base of the supervisor comment observation team understand facts of the employee for further action.
EXAMPLES, SAMPLES & FORMATS
You would also like to read: