Inspection & Testing Audit points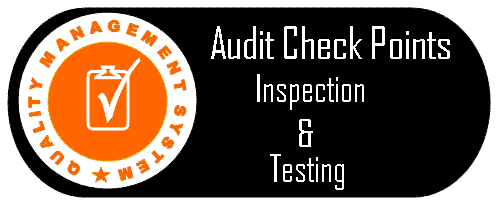 All Product and process verification activities are defined?  How its all done with drawing, procedures, control plants, specifications?

Which method is used for measurements & Analysis?  Are there work instructions, procedures, standards methods are effective?

Are there any special techniques like a SPC – Statistical process controls, sampling plants for inspections, Measurement system analysis?

Is there method to verifying in process & final inspection parameters?

Are there all inspection / testing / investigations/ sampling's methods and acceptance criteria documented?

Whether inspection / testing / quality checking personnel are qualified? They are trained for it?

Are all specified process monitoring activities implemented?

Are all inspection, testing and process monitoring activities and their results recorded?

Is the identity of the inspecting / testing / Quality checking personnel recorded?

Select a sample of production & quality control records and verify that the whole quality plan was implemented and the results recorded.

Which are parameters / criteria or system that identifies the final product? Is there methods of verifications are defined?  Recorded? How identify semi finish product & finish products?

How to determine Quality assurance plan is on tracks? Is the method to verification?

Is it determined what monitoring and measuring shall be undertaken to verify product conformity and what measuring devices are needed?

All measuring devices had unique identification numbers? Is there calibrated devices had labeled for calibration done?

Are measuring devices selected on the basis of the monitoring & measurement requirements?  

Measuring device operators and quality inspectors are competent for the used of measuring devices or inspection through measuring instruments?

Whether all measuring instrument / measuring equipments are calibrated? Is there calibration records are available? Who? And how the calibration records are verified?

Whether all measuring instrument / measuring equipments certifications are available? Is the conducted as per standards? Calibration process had maintained frequency?