Job breakdown sheet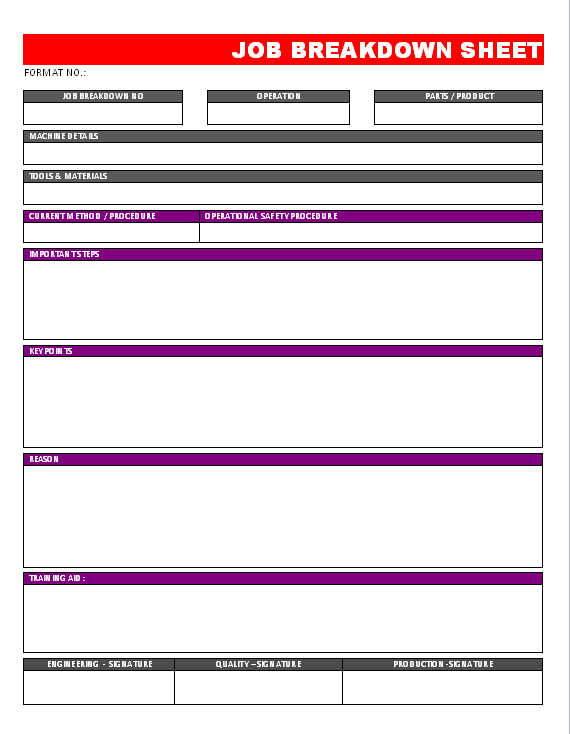 Job Breakdown number – this number is unique number that specifically used to identification of each job breakdowns for the easier to tracking & use for analysis in further requirements.
Operation – When job breakdown are considered, which operations are running or on which operation stage had job breakdown happen.
Part / Product – name of the part / product that Job breakdown happen during producing, trialing or sampling.
Machine details – Details of the machine / equipments are in used.
Tools & Materials – Details of tools and materials in process or on job slips.
Current Method / Procedure – Details of the current method / procedure to identification of the job breakdowns to find out reasons.
Operational safety procedure – During any operation safety instruction, precautions is very important, hence need to incorporate that which safety procedure is used during operation.
Important Steps – What major step is required, what type of problems and solutions are required, important step are consider as "what" – are written as simple statement, this can be logical statement.
Key points – Key points is the work flow of the statement which mentioned how this what statement will be done? The key point is consider the safety of the workmen, quality product and cost center requirements.
Reason – Specific reasons for the job breakdown is need to defined or mention to effective training can possible, this point indicate "why" – for the identification of the reasons behind it. Inputs of the reason can be find out from PFMEA that is potential failure modes and work flow and process mapping.
Training Aid – Requirements generated from the all the exercise for the eliminate job breakdown and further actions. All the exercise given as above are help to preventive planning and corresponding to training requirements.
EXAMPLES, SAMPLES & FORMATS
You would also like to read: