Disposition action for excess production
Excess product manufacturing need to permit from higher authority that is management, approvals of management for excess product manufacturing are possible, excess product can be terminate or transfer product to second product with different standards and specification for the reach the requirements of customers. Disposition action for excess product format as you can see picture, is used for the information flow of the whole process that actions and remediate actions are incorporate.
Some time customers requirements are changed with the sizes of product are same that in cases whole orders are need to terminate with different standards and specifications ( this is possible in some industrial product only) to comply requirements of customer, disposition action for excess product format is used for it, in this format all the concern information are available to all the concern peoples, this extra process is never corporate in any organization work flow but is happen in some industry.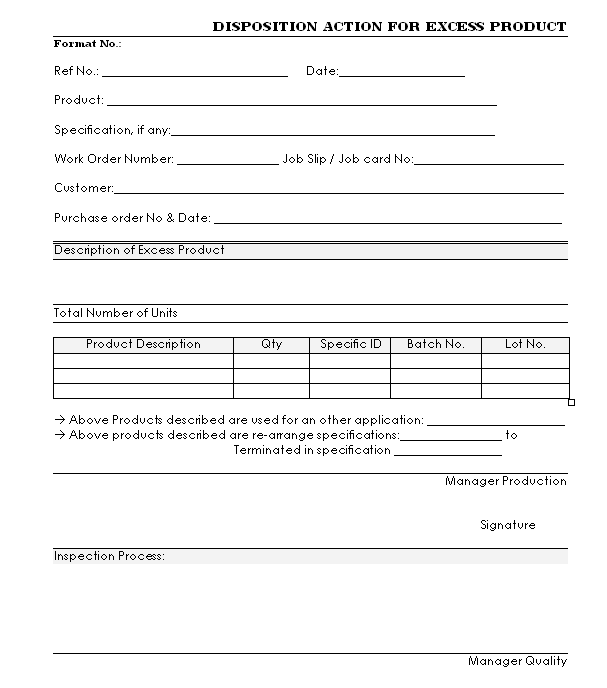 EXAMPLES, SAMPLES & FORMATS
You would also like to read:
| PRODUCT DEVIATION REPORT | PRODUCTION AUDIT CHECKLIST | PRODUCT DESIGN AUDIT POINTS | NON CONFORMING PRODUCT REGISTER | PRODUCTION FLOOR PLAN CHECKLIST POINTS | PRODUCT/PROCESS QUALITY CHECKLIST POINTS | WHAT IS PRESERVATION OF PRODUCT? | PRODUCT GUARANTEE CERTIFICATE FORMAT |