Machine Repair Cost analysis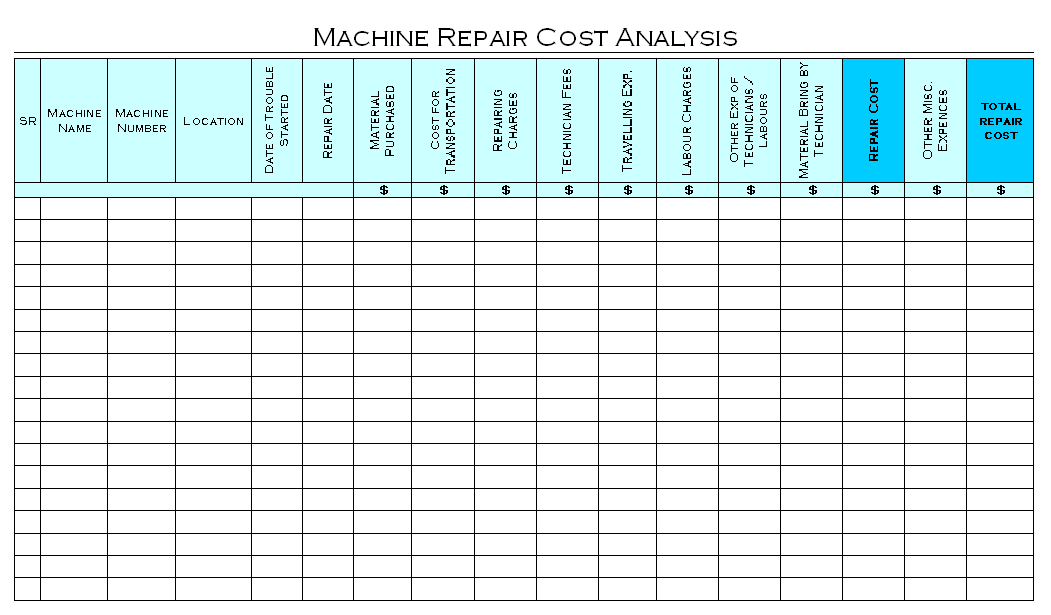 Machine Name

Machine Number

Location where machine is installed and operating

Date of the trouble had started – Date required at problem noted.

Trouble shooting or repairing date

Material purchase for the repairing machine by technical advice

Cost for transportation – Total amount paid for the material

Repairing charges for the machine repairing that is general charges are charged by the technician's company that can be visit charge or daily base charge of the equipment, machineries, tools and other material changes are included.

Technician fees – As per fix the technical fees with the repairer company, technical charges are bear by company, incase this amount bear by repairer company that technical charges will be zero.

Traveling charges – in some cases traveling charges of the labors, engineers and technical are paid by company.

Labor charges – If the labors are allocated locally that all the labor charges amount bear by company, if the agreements for the labor charges are included in repair charges that all the labor will be provided by Repairer Company.

Other expenses of technical and labors that during the works are provided facilities / foods  and other concern expenses are bear by company that's all are included in costing.

Material brings by technical charges / freight charges are paid by company if the charges are not bear by Repairer Company as per agreement.

Repair cost is the total of all the charges / freight and expenses

Other miscellaneous charges / expenses are paid by company

Sum of the Repair cost plus other misc. expenses.
EXAMPLES, SAMPLES & FORMATS
MACHINE REPAIR COST ANALYSIS IN WORD DOCUMENT DOWNLOAD FREE
MACHINE REPAIR COST ANALYSIS IN PDF FORMAT DOWNLOAD FREE
MACHINE REPAIR COST ANALYSIS TEMPLATES DOWNLOAD
MACHINE REPAIR COST ANALYSIS IN JPEG, PNG FORMAT DOWNLOAD
You would also like to read:
DAILY MACHINE MONITORING REPORT
MACHINE QUALITY CONTROL CHECKLIST
DAILY MACHINE PRODUCTION REPORT