A Good Machine Startup Checklist may include all the inspection criteria that help to ensure that all the machine functions, spare & parts, electrical, and controls are working properly. This checklist may also help to verify the entire startup process before any operation.
Overview to machine startup checklist
In the manufacturing unit, manufacturing machinery, equipment that used in production are key equipment to produce the material or product that need to care in any process steps for maintain accurate. If the machine's all parameters, qualified and validated process, skilled operator combination is result of best quality material.
Out of all requirements, machinery play prime role in the whole subjective process; hence it is necessary to handle the machine from starting to shutdown with all the specific operating methods.  When the machine is going to start that need to some step to ensure that the machine are well condition, to proceed the checking process in machine start up checklist.
What to include in machine startup checklist?
Basic required fields of the machine start up checklist as below:
Machine parameters are set properly?
Are machine setting is correct? Verify with manual
Is there any leakage from machine?
Machine oil level is sufficient?
Machine's all electrical appliances are working correct?
Are there any loose wiring / open wire found?
Check there machine electrical earth pit is proper? Is there any Earthling leakage evident?
Is the control panel of machine is properly work? All operating switches / buttons are working properly?
Verify there machine extra noise evident?
Machine is vibrating? Which part of the machine is much vibrating or doubt?
Is there scrap yard / box is properly located?
Are there finish material location is properly identified with label?
All the parts of machine are properly cleaned? Is there any corner dust or waste scrap is found?
The required tools are properly located to reach easily?
All the rotating parts / danger categorize parts are with guards?
Input material deployed near machine is as per planning? Is there any planning change evident? Does Material having a tag?
All the necessary documents for the job are available?
Is there sample planning is done? Operators are aware for sampling?
As you can see picture above, we made try to include all information to capture in this checklist. In case any information is require to include, it may be possible with this format. You can download this format and modify it as your internal requirements. This template may also helpful to improve the machine efficiency and effectiveness.
Machine startup checklist template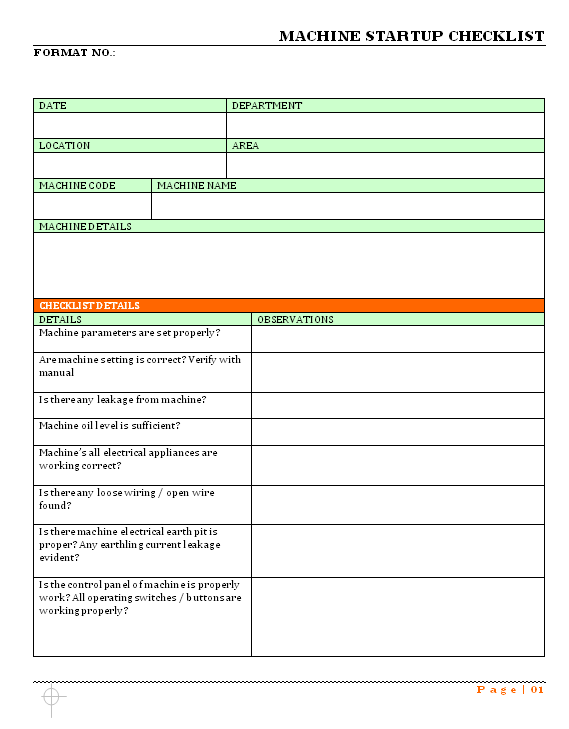 EXAMPLES, SAMPLES & FORMATS: Download
Related: