Maintenance memo – Maintenance request document
Maintenance memo or maintenance request document is established for communicate with maintenance department to acknowledge maintenance required in particular place, machine or equipment.
Maintenance memo / maintenance request document of maintenance request memo is established to managing communication with maintenance department by user department to acknowledge maintenance requirements for machinery, equipment or any supporting lines, the maintenance memo is given on any internal trouble raised in department that department is sending maintenance memo to maintenance department for conducting those trouble to maintain production line / supporting process. Maintenance teams manage each record and analyze those records for the identification of the specific reasons of the breakdowns.
Maintenance document which is provided by the department is conducted by concern engineers and identify solution inline with requirements of repairing, replacement or services. Department head is responsible for the provide failure details to maintenance department with fair details to immediate actions, hence maintenance department head is responsible for conducting those details and identify problems and proper solution inline with document raised. Department is provides maintenance memo to maintenance department, see picture below given as example format for education purpose: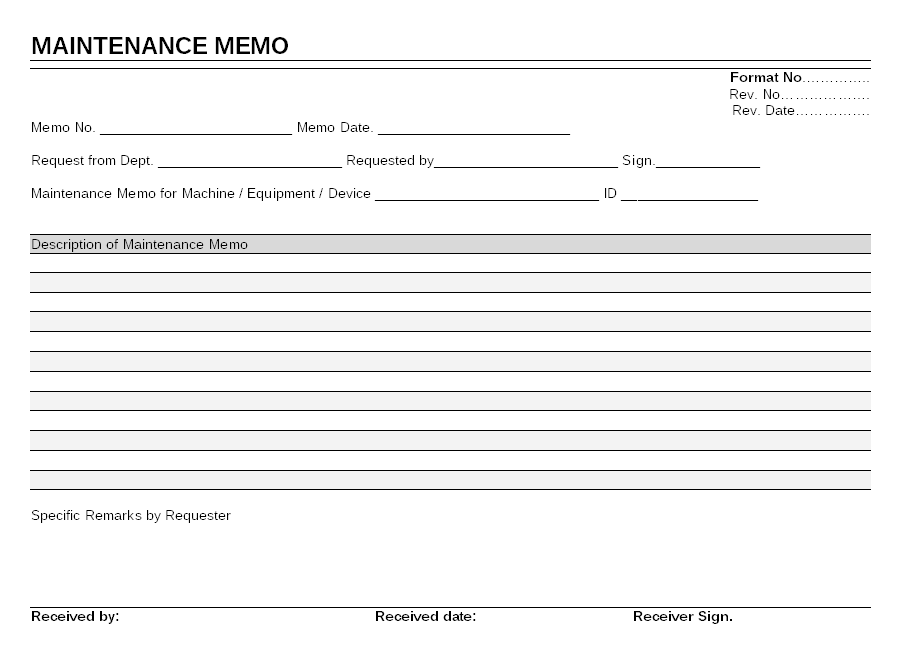 Maintenance memo is covered all the details which is needs for the conducting maintenance task by department engineers, the document is helps to engineer to determine actions for repairing, replacement of the parts or services as per identified root causes, sources of failure with machinery, equipment of any other devices which is disturb production lines and cause decrease productivity of the company or department equipment efficiency reduction. The documents are conducted by maintenance head and analysis each records for the identification of specific reasons behind failures, machinery and equipment self life and deployment of preventive maintenance in line with records of the maintenance requirements from various department.
———————————————————————–
Download format in word document | Excel Sheet | PDF format
———————————————————————–
Related Post: