A Forklift Maintenance Checklist is document may use to ensure that there is no any defects, primary condition is good, and functions of forklift are working properly. In case of non-compliance, inspector will to remark it and immediate inform to maintenance team.
Forklift operation
This article giving supplementary guidelines to ensure safe and efficient operation of forklift in workplace.
The article you are reading had not covered fully details each specific requirements of safety for forklift, but its help to operators identify regular tasks and aware the daily assignment during operating forklift operations and critical information to perform their job safely and will perform effectively.
General
It's very important for the forklift operators and organization that every operator should be licensed for general safety requirements and performing forklift tasks. And also should be authorize forklift operators trained and instructed under supervision and qualified examiner. Fork lift operators should familiar with functions of operations, forklift safety and operating controls, and authorized forklift operators should also able to pre-check, inspect, verify and basic maintenance tasks has to be maintain. For any forklift operation, store, maintenance and concern supervisors should take care of all the critical materials, spares & parts required to maintained. There is also major duty of forklift operators to observe unsafe materials and conditions, and will be reported immediately to concern authority and superior and also maintain its records to follow up and improvement of system operation.
Some basis steps or regular procedure that conduct are:
Pre-check inspection of forklift condition, functions and spares: Forklift operator should know their task and condition of working environment and locations and also make sure clear instructions from their supervisor. All protective equipment should be obtain to performing its tasks with safely, because it's important to machine work safely during operations.
Machine starts / tests, function verification and records
Conducting forklift operation.
Reporting unsafe materials, condition, locations and processes
Procedure shutdown
Training, improvement and compliance.
Forklift Maintenance
Actually, forklift is important equipment for the movement of the materials in storage areas, this equipment is very light and easier for the operation that cost effective and quick movements are possible through forklift, but every equipment need to care on time to time, forklift preventive maintenance are done as per frequency than its effectively and long time working machine, hence breakdown of the forklift can be avoid, at time of maintenance of forklift important parts and its maintenance checklist is available, here some useful information are given as checklist format as below:
Some forklift maintenance checklist points:
Are the clutch & breaks properly work?
Check is there head lights & tail lights / all the lights are properly works?
All the horns are properly sound?
Is there scanner on the tow motors is correct?
Check the tire air is proper pressure is maintains?
are there seat belt is properly working?
Oil level as per forklift manufacturer's guideline?
The propane tank secure and without leaks?
There fire extinguisher is available with forklift? Fire extinguisher is refilling regularly? Green colors indicate on it?
Does the mast move freely and without mistake?
Is there any extra noise is found during drive?
Are forks in working conditions and at place?
Is there any kind of leakage? Damage on tanks?
Forklift maintenance checklist sample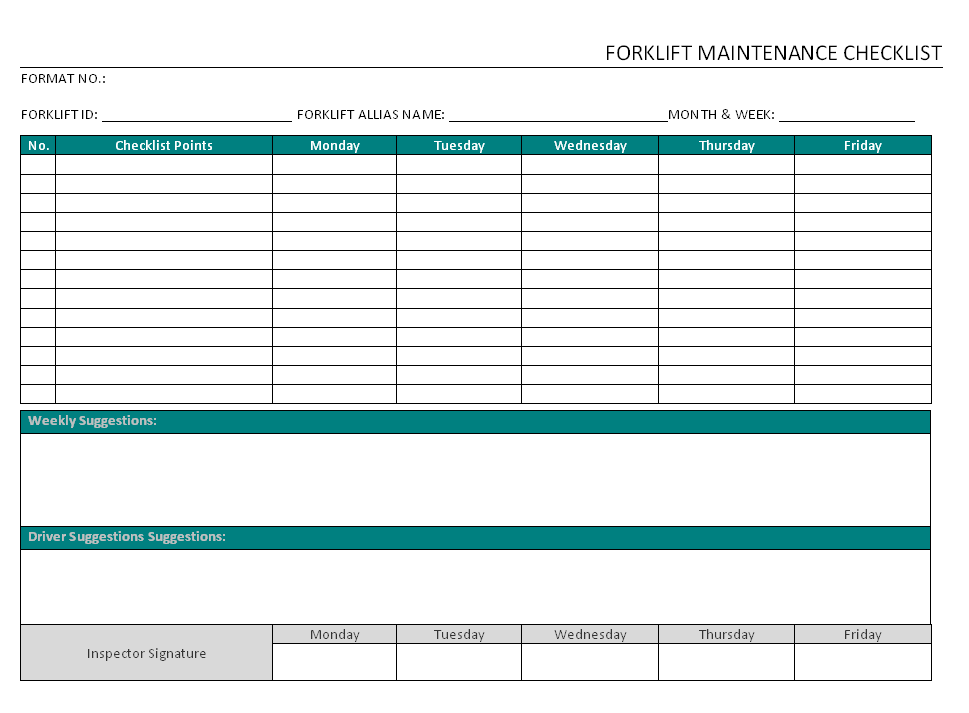 In the forklift operation, forklift operating training is important because its operations and functions are different than other vehicles, its takes a much attention and practice to learn to loading – unloading, drive and maintain them properly. The training on forklift is conduct in classroom, evaluating and analysis procedure assessment and needs to focus on its requirements, mainly in training instruction and observation is important during training to maintain reasonable distance from forklift, do not try riding during training unless approved or designed by supervisor.
EXAMPLES, SAMPLES & FORMATS: Download
Related:
MAINTENANCE – EQUIPMENT VALIDATION REPORT
DAILY FORK LIFT INSPECTION CHECKLIST POINTS
MATERIAL HANDLING EQUIPMENT CHECKLIST
HEAVY EQUIPMENT INSPECTION CHECKLIST
FREE HEAVY EQUIPMENT FAILURE ANALYSIS FORM
CRANE & LIFTING EQUIPMENT SAFETY INSPECTION CHECKLIST