Laboratory devices planning audit documents
Laboratory devices planning audit documents are established to ensure that laboratory devices planning properly conducted to maintain accuracy of devices as per standards.
Laboratory devices planning audit documents are prepared, maintained and update for the recording audit information of laboratory devices planning, records of laboratory devices maintenance, calibration, other concern information and planning to manage each device in laboratory to identification of the planning to improvement of devices accuracy, deployment capability and management. Laboratory devices planning audit is conducting to verification of laboratory devices planning activities, planning documents and devices planning records to managing all the planning audit to identify non-conformity of planning system of laboratory devices planning to improvement of planning system by provides improvement suggestion during laboratory devices planning audit.
Laboratory devices planning  audit documents are established by management representative to communicate and contribute to preparation of the devices planning audit, management representative is also responsible for the provides guidelines to qualified auditors, selection of auditors as per qualifications for conduct audit of laboratory devices planning team activities, and department documents. Qualified auditors are responsible to conduct each activity of laboratory planning and sections, documentation to identify system and non-conformity as per standards. Laboratory manger is responsible for conducting that non-conformity and determine action plan, implementation of action plan as per requirements. Audit team is prepare documents during audit process to managing all the audit activities, records and non-conformity if raised, for the conducting planning activities, audit team handle checklist for easy communicate with activities and processes, see picture below given as example format of checklist for the laboratory devices planning checklist for education purpose: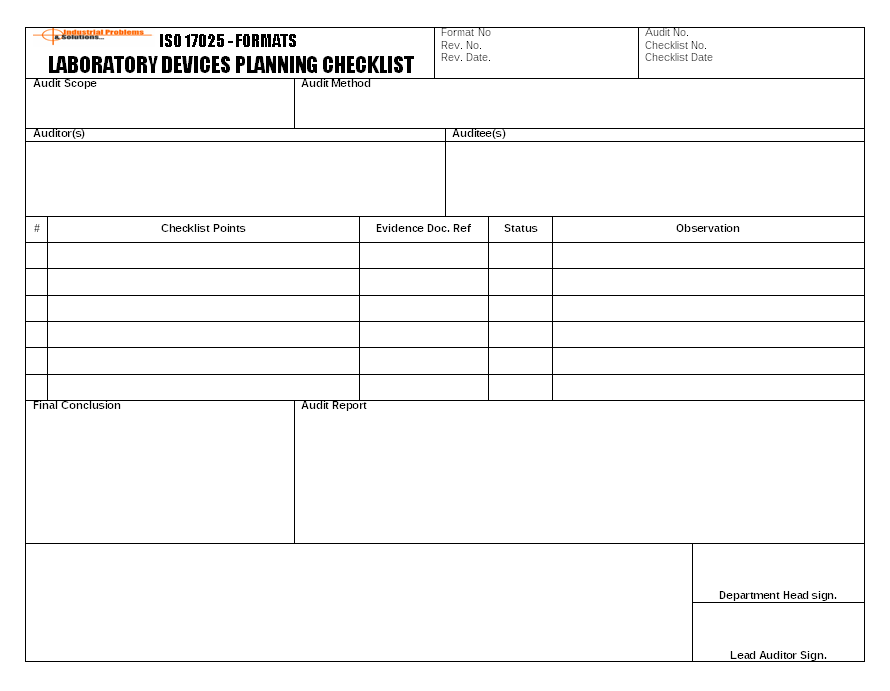 Laboratory devices planning checklist is covered all planning activities and concern documentation for identify internal system to determine any non-conformity in system to improve accordingly. For the conducting laboratory devices planning, audit team is arranging checklist to manage audit requirements, some basic points that used in checklist are as below:
Is there laboratory devices list is prepared by department, and entire list is maintained and updated?
Is there laboratory device is individual tracking code or identification number is provided? How its all are managed?
Is there laboratory devices list is approved by authority / management? And same are verified by department head (Owner)?
Whether each laboratory device is properly calibrated? Calibration records are maintained? And certificates are available with department? In the calibration record all required details are available? Calibration frequency is maintained by department?
What is the system to manager each laboratory device for calibration? How uncelebrated device is maintained separately? Is there rejected devices are removed from system? What is the system of removals?
Is there all laboratory device capacity is defined?
Is there each laboratory device having its own manufacturer manuals and maintained those requirements? Department having manufacturer' manuals?
All above points are basic that used for the laboratory devices planning documents and checklist which is used in the audit process, the checklist is useful document for the auditor that all the functions, processes, areas can cover without forget anything with all the required points are verify that which helps to determine system requirements and needs for the compliance. All the noncompliance are conducted by department head and determine action plan for improvement to maintain and implement action plan in system.
———————————————————————
Download format in word document | Excel Sheet | PDF format
———————————————————————
Related Posts: