Management of change program
Management of change program is process that structural change of system, process, facilities or equipments for improvement in exiting system.
To establish of management of change program in internal management system for the improvements in existing system, facilities, processes, organizational structures and resources, equipments by modification or new concept and additional efforts to ensure the system is cure all the activities & supporting process should comply the targets & conditions of requirements of the system and customers too. Objective of the management of change program is the assessment of the new facilities, new process, new resources and new equipment or modification of the existing system by innovative concept.
Management of change program is the covered all the units of the company and each part of the department, this concept is not addressing any particular department or part of the company when management of change program is implement that mean whole company's all parts has to applicable. Management of change program is conducted on base of the some basic reports that helps to management to get the decisions to right judge the situation for the improvement in company, some reports like a control plans, risk assessment sheets / system, machinery details and its analysis etc.., management considering almost all the important document for improvement or amendment in the current system for the positive approach.
What is Management of change activities?
New facilities purchasing and installation including machinery / equipment
New material purchasing & use in process
Old Equipment modification for improve performance
Process improvement / process changes or sequence change of process
Change / modification / add / remove system parts which impacts is huge
Fix or capital assets / investments / property changes
Management should ensure that the risk issues proper identification, monitoring and controlling at the all the process stages and activities, management are considering information of the collected and used in the regular system that can be equipment and facility evaluation. Management of change program are conduct on base of the equipment and facilities review, to ensure the condition of the equipments are safe & recommended for the further operation, equipment review are conducts. See here as below picture of equipment review form: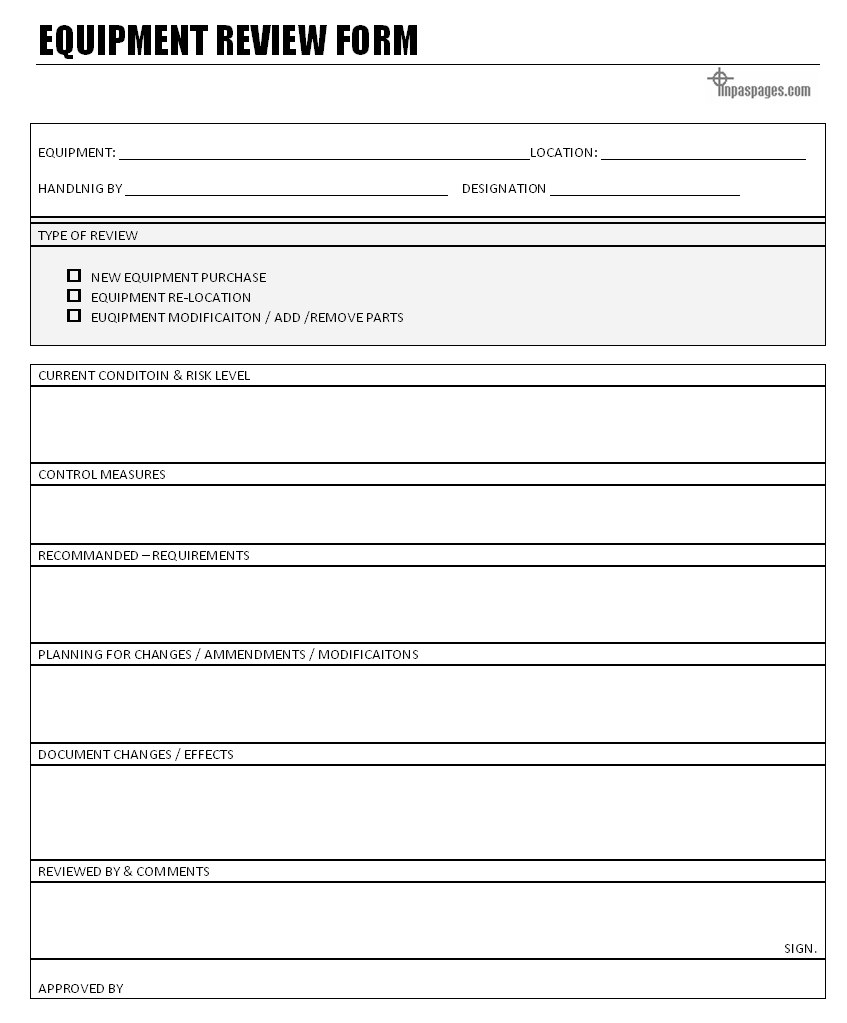 Qualified internal auditors are conduct the audit of the new manufacturing processes, engineering changes, all new machinery, equipments, new recommended material and system. Internal auditors are inspecting management of change and its concern risks and aspects. On base of the internal audits and risk identifications management are takes the decisions for the improvement, hence periodic implementation is conduct on time.
The management of change program is conducting on annually, but it preparation are regular basis, each days records, documents are conducting for analysis to manage change program by management on timely. In the management of change program covered all the issues, requirements & activities that required for improvements.
EXAMPLES, SAMPLES & FORMATS
You would also like to read: