Managing controls by process appraisal
Managing controls by process appraisal is the process established to verify processes to identify risks levels in various processes to determine controls in processes.
Managing controls by process appraisal process is conducted as per frequency defined by management to conducted process to process, each process in manufacturing and supporting activity to identify risk factors, monitoring on processes and validation of processes to ensure that each process is properly conducting in manufacturing and supporting processes for maintain and improvement in product quality. Managing controls are possible when each process are properly evaluated by concern peoples i.e. selected inspection team which are indexing all the process, verify with process specifications, all the work instructions and standard operating system which are deployed to handling each process, for the each process standard operating system is managed and verification are conducted during the evaluation of process. The main purpose of the process evaluation or appraisal is to conducting process for evaluation / appraisal to ensure the processes are properly managed in manufacturing and supporting process which is directly concern with product and its quality.
Control management is depends on the process evaluation and during the evaluation of process concern inspection team is identify risks in processes, monitoring & proper controls can determine. The system is deployed by management and all concern documentation is handled by general management, hence department manager is responsible to provide information to general manager for indexing each process for evaluation. Each process is indexed in single format where description of process, process specification, process wise work instructions and standard operating system records are taken for reference and cross verification of process, validation records of process, and risk analysis are conducted in processes, on base of the full exercise monitoring and appropriate possible controls are determined by management. For the recording information, team is conducting process appraisal and control sheet format, see picture below given as example format of process appraisal and control sheet for education purpose: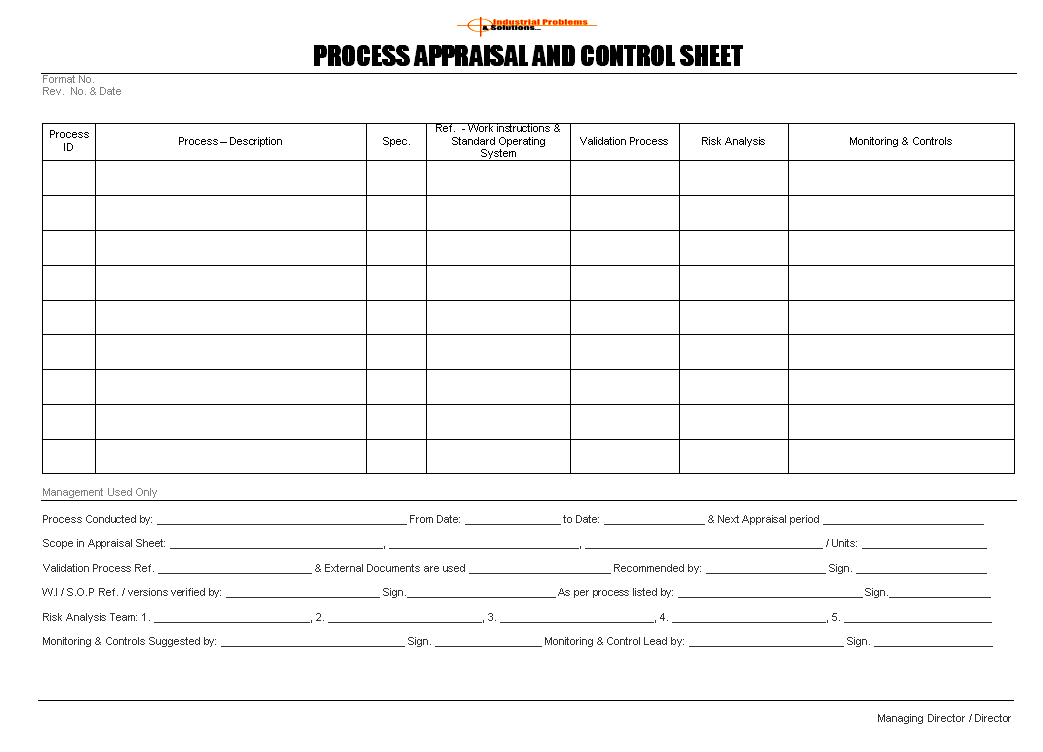 Process appraisal and control sheet is simple format where all the processes are indexed and descriptions are provided in line with process identification number, evaluation team is conducting this format to recording information of evaluation of processes. The purpose of the process appraisal is to verification of each process and its concern information, procedures and records and documents are managed for various requirements, during the evaluation team is identify risks and analysis the risks levels to determine proper action plans to deployment of monitoring system for identify appropriate controls over it. The system is important which needs to frequently evaluated, the evaluation of process are conducted as per management defined frequency or on new processes, major changed in resources or on management change. The documentations of process evaluation / appraisals are conducted by general manager to determine actions in various processes, deployment controls by monitoring and analyze processes requirements.
———————————————————————–
Download format in Word document | Excel Sheet | PDF format
———————————————————————–