First Part Approval (FPA) Request Note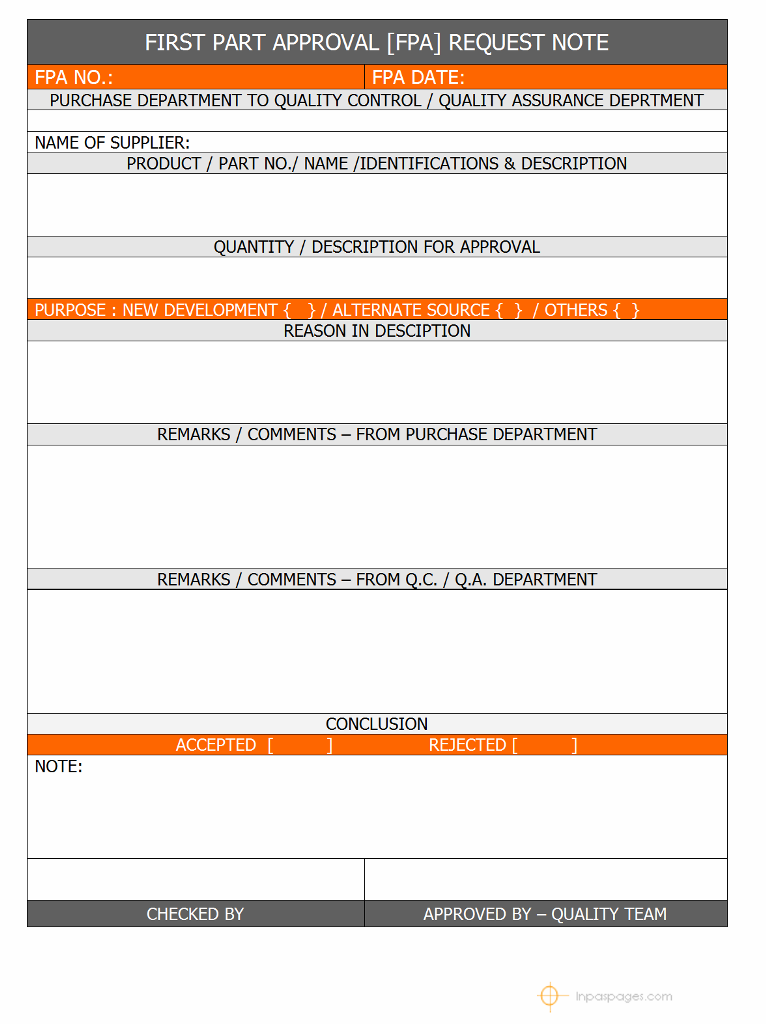 This request note are generates by purchase department to quality control / quality assurance department for first part approval. This request note need to ensure the quality of the product which is going to be a purchase are fulfill the requirements of user department & application that used internally.
Purchase Department receiving the product's part / product sample to approvals, to proceed the approval process purchase department preparing the first part approval (FPA) request note and send to quality department along with physical material that need to be inspect & approval for the purchasing.
In the first Part approval request note, required all the details should be cover to identify and traceable the materials descriptions, identifications, who is the supplier, present quality for approval etc.. matters are important, there are also can purchase department remarks or comment on the material which had previously experience and currently marked some thought can help to quality department for further assist.
Quality Control / Quality Assurance department process on sample products and test the various requirements for the approval & give the suggestions & comment along with result of the product that approved or reject.
This process is very important in case of the product are used on various level with high priorities and important that mass production can be reflect in case of the failure of the products that sub part not reliability work.
In short, first part approval process is very important part of the system where each sub parts are necessary to cover the individual importance e.g. Car manufacturing OEM company are buy the engineering part from various supplier that need to check out each part are used in car for the ensure the quality car is deliver to customers.
For consider the importance of the first approval process that here you can download the sample format of fist part approval request note that prepared by purchase department to sent to quality department for approval.
————————————- Download ————————————-
Download First Part Approval Request Note in excel sheet
First Part Approval Request Note in Word Document / PDF Format / Excel Sheet
Download First Part Approval Request Note – Description
————————————- Download ————————————-