Payroll Register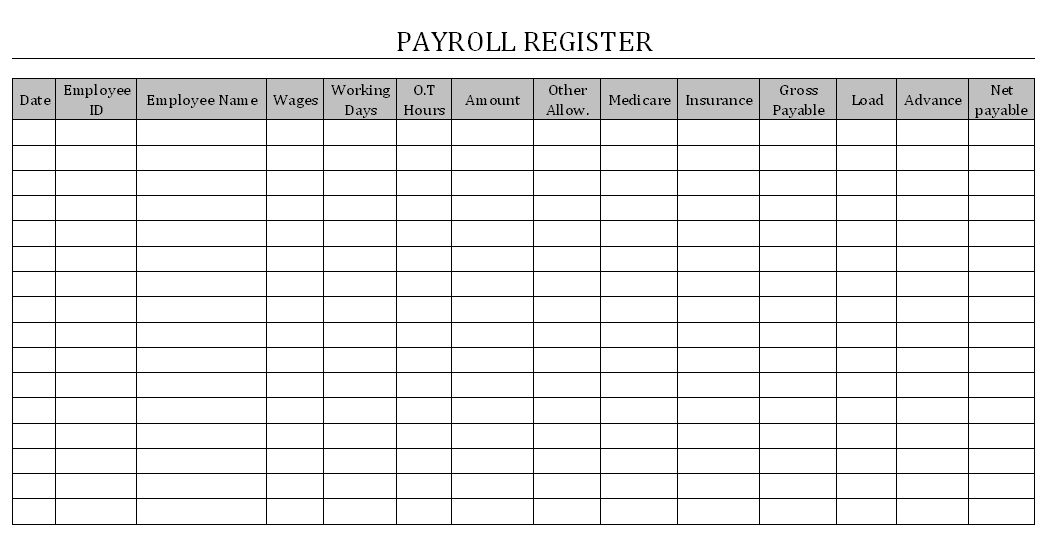 Payroll Register made by human resource department for the employee payable amount, in this payroll register all the details of the payable, deduction and net payable amount are calculated, Here as below given example format of payroll register for kind consideration:
Date of payment made or paid

Employee Identification number as per sequence given by human resource department

Employee Name

Wages of employee for eight hours

Working Day in the month

Total Over time hours if made

Sum of the all payable amount

Other allowances if paid as extra

Medicare amount will be deduct from total amount this facility for the employee which third party (insurance company or any medical cover providing) payable amount.

Insurance of employee will be deducted; some companies are directly paid from by its account.

Gross Payable amount to employee – Amount after deductions if insurance and Medicare.

Loan & Advances are deduct from the gross payable, because this amount is already paid by company or credited.

Net Amount payable to employee.
EXAMPLES, SAMPLES & FORMATS
You would also like to read: