Job setup sheet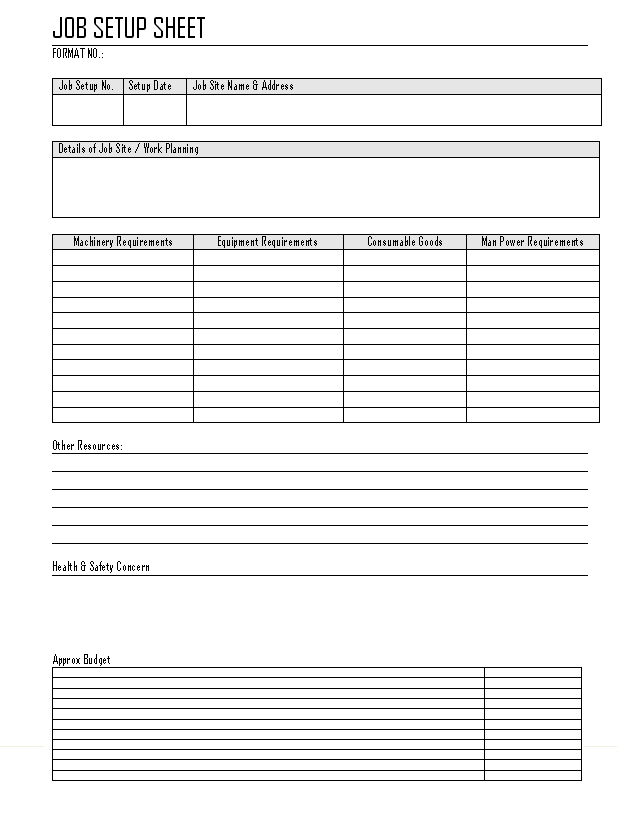 Job setup number as sequence of job setup sheet

Setup Date

Job setup site Name and address, specific location if possible

Details of job slip / work planning – Job setup's full information input planning to output of the material / services to identify requirements, problems and troubleshooting of plant for the particular job setup site.

Requirements of the Machinery for the plant as per job site capacity, requirement of the product lines, Requirements of equipments to supporting production line, consumable goods and manpower to estimate whole job site requirements and approximately costing effects.

Other Resources – Resource can be in form of services, money or anything that supporting, improve, enhance the production, job site productivity, these others resources are most important to manage the job site as systematically and smooth.

Health and Safety concern requirements, environmental issues are need to consider as per government rule and regulations, compliance of health and safety in job site and also needs to manage human resource with safety and health for increase productivity.

Approx Budget – for the job site how much estimate cost will calculate for the possible job site establishment, maintain and improvement in productivity, efficiency.
EXAMPLES, SAMPLES & FORMATS
You would also like to read: