Progressive Discipline form
Some time disciplinary action is must when an employees are behave negative, its directly impacting on company rules and regulations, company image and it's work concerning. Further impacts are on co-workers and work place environment very bed impacts of any single employee. Discipline warning gives a right judge to employee to avoid such cases, due to discipline warning others employees are understand value of company discipline, rules and regulations and company policy requirements.
Progressive Discipline form can be below kinds of basic nature concern issue or requirements:
Formal Training / Format Coaching
Termination
Written Warning
Final Warning / Suspension
As per above requirements of progressive discipline form are conducting on issues. This format is documents and also used as records when the training / coaching records are need to comply. It's also called "Employee Coaching Form" that used a multiple requirements.
Warning / Terminations are given to employee on some cases like company policy violation, quality concern issues, drinks on duty, safety concern issues or attendance etc.. some basic requirements that company are expecting with employees that not met in some cases that company are gives a format letter that is progressive Discipline warning for improvement in discipline, after the warning employee no any action taken for improvement company can possible to terminate that employee with final warnings.
Here ready made format for progressive discipline form are available for download with following links, in case of any modification required, after download it's possible to edit, remove any fields as company requirements.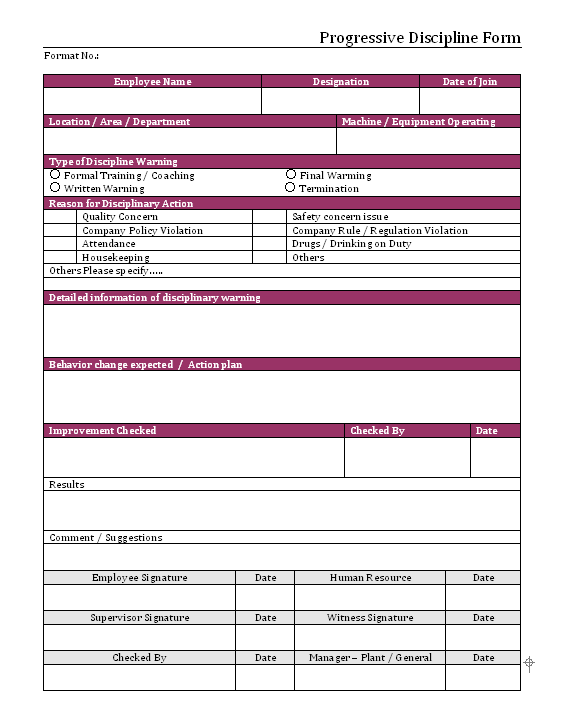 EXAMPLES, SAMPLES & FORMATS
You would also like to read: