Quality Control Agenda Format
Quality control agenda are prepared for the discussion in general meeting of the quality peoples for the improvements, enhancement of services and accuracy in the quality product measurements, generally quality control meetings are arrangements and its agenda are predefined, what discussions and on which subjects are discussed in meeting are predefined, agenda is the list of the pre-decision of the subjects points, some basic required agenda information as below:
Role of quality control – In agenda, committee discussion on subject to product manufacturing's process sequence and interact for the tracking the role of the quality control for in- process quality controls and final quality controls.
Role of Product / interaction – Quality control committee discuss on product and interaction to identify the requirements of the product quality, its parameters, machine parameters, process criteria etc.. For maintain planning and quality product.
Safety requirements / Precautions are very important for the company and workmen / employee mostly working at plant level, in manufacturing unit peoples are working with heavy equipments, machinery and hazardous chemical can be harm to human body that safety precautions and awareness should in at place on prior.
Past experience – On base of the past experience, quality control are prepared the agenda for the discussions.
Last Audit / results given the directions to manage quality control planning, as per last audit and findings help to preparation of the quality controls and material planning for quality controlling.
Customer feedback – customer feedback is also taking as input for the discussion on the quality control that part of agenda can be need to discussion and proper quality planning and its requirements are depends on.
Requirements of resources – is very important parts for the quality controls, equipment, instruments and devices are used is very costing and not possible for every companies to stock at all the movements. Quality controls and its planning are aware and understand the availability of the resources, planning of the material for quality consider at the same table.
Control Measures – requirements of the quality control and effects on planning, arrangements & conducting is depends on controls measures.
Quality Control Agenda format is available for download with below links: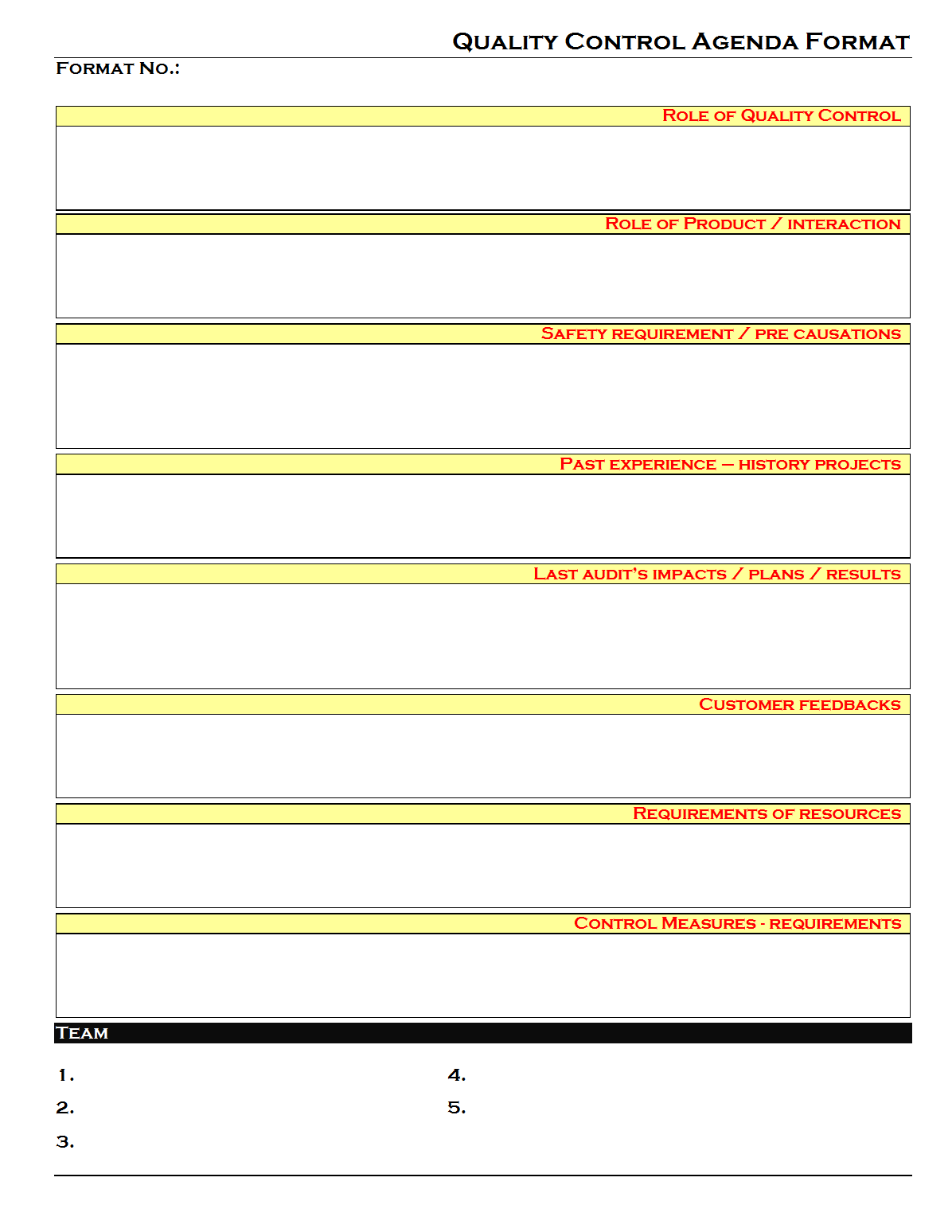 EXAMPLES, SAMPLES & FORMATS
You would also like to read: