Inter Quality Control Checking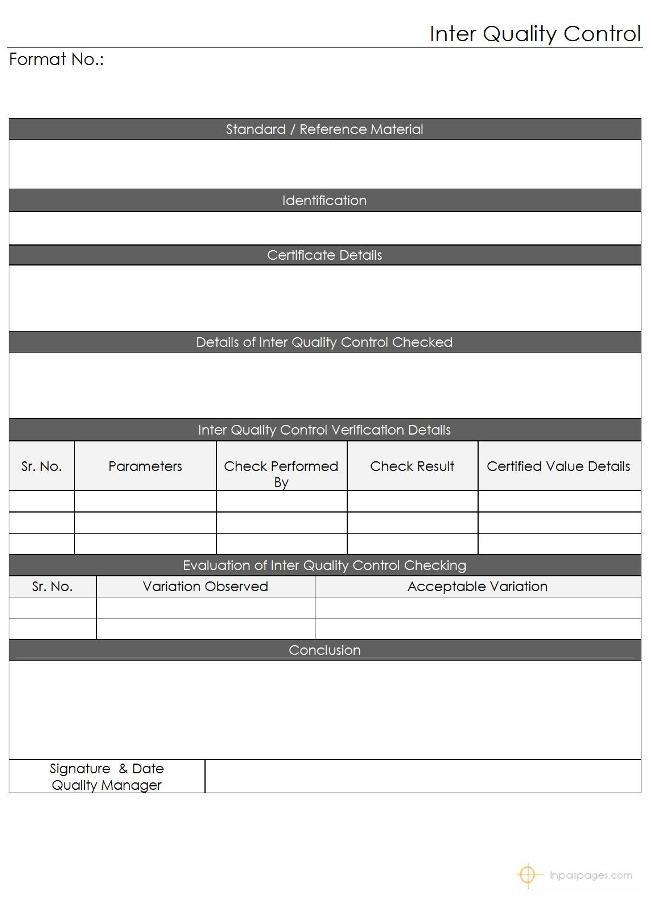 Quality Control is always heart of the business that customer satisfactions depends on department that all the parameters are check & verify as requirements of the quality product. In ISO 17025 quality Laboratory has to follow the requirements, monitoring and controlling the materials standard, should be met the international standards.
Quality Control Department, processing various testing on customer provided sample along with details that quality control department verifies the standard requirements and takes for the further testing as per international and material standards.
ISO 17025 – requirements field details for the internal Quality Control as under:
–         Standard / Reference material
–         Identification
–         Certificate Details
–         Details of inter Quality Control Checked
–         Inter quality Control Verification Details: are covered required parameters for the checking of quality, checking performance and checking result by quality controls as resulting certified value details need to consider.
–         Evaluation of inter Quality Control Checking: when we done the jobs of checking that are not enough that need to evaluation by verify quality checking to identify the variation in the checked sample for the find out acceptable variation otherwise material that is sample will be reject on base of observations done by inter quality control process.
Inter quality control checks records is a important for the laboratory processing to maintain reliance of customer that provides the sample for the testing, quality control department after the process done need to summarize whole result in some single lines that unconcern people can identify the result of the inter quality control.
To understand of the requirements, fields and basic format are available for download
————————————– Download ————————————–
Inter Quality Control Checking format in word document
Download Inter quality control checking – ISO 17025 requirements
————————————– Download ————————————–