Quality nonconformity report
An organization follow quality management system like ISO 9001, TS 16949 or any other ISO series that motive of maintain quality system in organization, quality management system's basic requirements are continual improvement, for the continual improvement to maintain quality system that required monitoring and controls on the basic processes and its activities to conducting requirements of the quality systems and its requirements.
As per requirements of the quality management system, timely auditing processes are required to identify non conformity in organization for the improvement, enhancement in quality system and products concern. Nonconformity are generally management and concern peoples are understand negative, but numbers of nonconformity is change of improvement to enhance quality product.
Whenever auditors are finding nonconformity in process or product related, its opportunity is to correction the each and every structural / non structural requirement. Quality nonconformity report is basically generated by two different audits, internal audit and external audit; both parties are same process and procedure for the show quality nonconformity as international standards guidelines.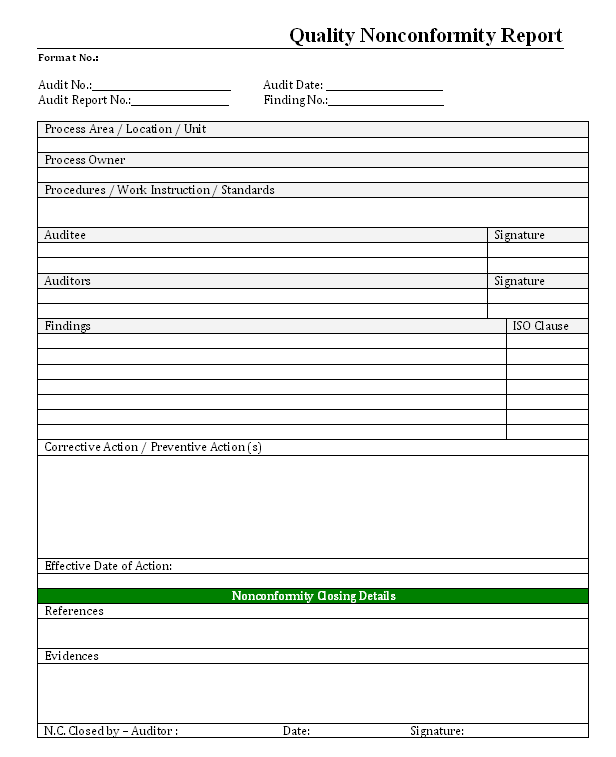 EXAMPLES, SAMPLES & FORMATS
You would also like to read:
| QUALITY AUDIT POINT FOR MATERIAL DELIVERY | QUALITY AUDIT REPORT | INTERNAL AUDIT CHECKLIST FOR QUALITY | PRODUCTION AUDIT CHECKLIST | DOCUMENT CONTROL AUDIT POINTS | INSPECTION & TESTING AUDIT POINTS | PLANNING AND OBJECTIVES AUDIT CHECKLIST POINTS | EXTERNAL AUDIT COMPLIANCE REPORT | INTERNAL AUDIT CHECKLIST FOR PERSONNEL DEPARTMENT | INTERNAL AUDIT NOTIFICATION FORMAT |