Quality Objective Record
Quality objectives are primary goal to establish, maintained & improvement decided on base of it. Objectives can be departmental & company level, departmental objectives are directly affect company level objectives, all the department's objective are create company level objective that base targets are different than departmental, or there are also possible that departmental objectives not become company level objectives.
Company level objectives are consider the requirements & priority of the level that need to reduce or increase to get benefit financially as well as legal compliance. Whether departmental objectives are demonstrate department target level for achieve level that defined as targets.
For the quality objectives are defined & planed for achieve that required reporting system that is quality objective records, in quality objective records are covered the requirement to quality objectives project for improvements and achievements of targets. Requirements of quality objective records are under:
Objectives: for the each objective records are maintained individually for traceability of objective improvements and its achievement tracking to project amendments, requirements of resources or any other requirements can be handle on time frame that objectives are need to improve and achieve. In the quality objective records are focus on the level of objective that prime requirement of improvement that is present level and target level with target date are also need to consider for the time framing.
Project implementation plan: Planning for the achievement of quality objective and concern records are maintained in quality objective records, tracking of improvement & requirements of resources that plans are created & records In it.
Methods of monitoring: for the achievements of quality objectives and its improvement records information collection and analysis that need to frequently monitor on the enhancement in project, monitoring is unique technique to trends are identify of improvement, but need to methods for the monitoring, company decided the method for monitoring on track of quality objective plans.
Method of measurements: quality objectives improvement tracking and its monitoring requirement that each quality objective should be measurable to understand of its require criteria of the acceptable target levels & same for improvements, method of measurements is subject to quality objectives, there is also possibility for each objective had its own method & method of measurements individually.
In process review: The whole project are takes time to achieving or reach at level of quality objective, on going project review is same as monitoring but review are interfere & controlling on activities if out track activities are found during review. Review is kind of maintenance activities of project that broken communications, project improvements & its broken linkages information are merged after review, review is identification, monitoring and controlling activities that help in process.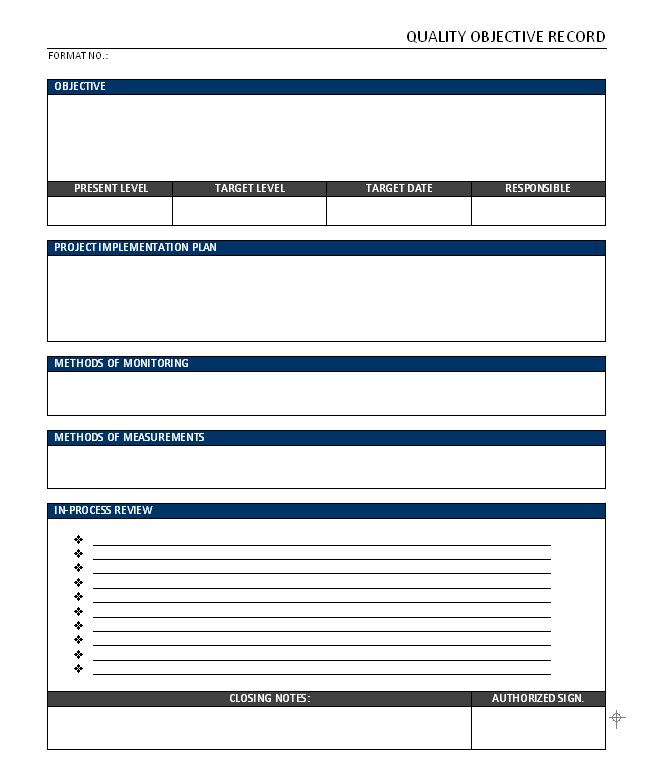 For the requirements of quality objectives and its record format requirement, here ready made format are available for download:
EXAMPLES, SAMPLES & FORMATS
You would also like to read: 
| WHAT IS QUALITY OBJECTIVE MONITORING CHART? | PLANNING AND OBJECTIVES AUDIT CHECKLIST POINTS | OBJECTIVE & IMPROVEMENT REPORT| QUALITY PLAN | DEPARTMENT OBJECTIVE SAMPLE: COMPANY OBJECTIVES |