Safety inspection checklist points for Maintenance Department (Mechanical / Electrical Maintenance)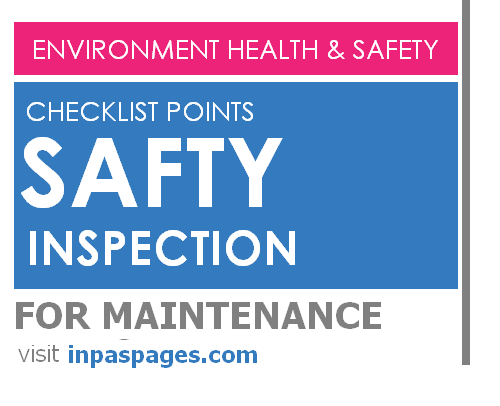 Do electrical maintenance / mechanical maintenance peoples use proper use PPE – personal protective equipment like safety shoes, helmet, safety belts, and safety glows APPROPRIATE Hand gloves for Maintenance work?

Do maintenance peoples are used standard tools?

Does Maintenance peoples tested chain pulley blocks once in a year? Is there any evidence?

Are the working personnel taken Work permit for Working on Height or Hot work etc.?

Is work permit valid & approved? (if any)

Do Maintenance people use safety Belts on height? Safety belts are verified periodically?

Is lifting machine, chain, rope or lifting tackles examined once in a year? Evidence?

Is Periodic checking & Testing of Pressure Tanks Or Vessels is carried out with evidence by competent and authorized Agency?

Is record available for testing of Cranes?

Is there proper arrangement for disposal of solid waste, cotton waste, paint scrap, rubber scrap, fiber scrap contaminated or any kinds of scrap generated during maintenance activities?

Is record available for Inspection & Testing of pressurized vessels OR air receiver tanks used in factory?
Related Topics: