Safety inspection checklist points for Quality Control / Quality Assurance – Material Inspection Department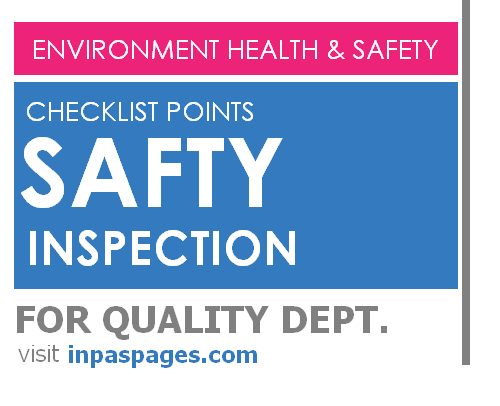 Is there any material lying on floor in side or outside of gangway at Inspection area?

Do people wear appropriate PPE's – Personal Protective Equipment like safety Shoes, Hand gloves etc.. During inspection?

 Is there any rotating equipment or any rotating things are without safety guard in machining area?

Is there any damage of Electrical appliances at inspection i.e. quality area?

Is there any loose wire or open connections at inspection area – quality department?

Is there any leakage of oil / grease or any chemicals, inspection supported chemicals / creams of any other unwanted coolant on floor?

Is there any rubbish like MS wire pieces, cotton, papers, empty bottles etc. on floor? Or corners of inspection area? Do people follow work instruction?

Is Hoist, fork life, over head cranes or Lifts Examined once in last 6 months? Evidence?

Are Empty containers of Chemicals used for various testing & Paint properly disposed off as per Work Instruction?

Are the Hazardous categories pens, sketches, Plastic Pens, Chemical marking pens are disposed off properly as per work instruction or M.S.D.S?

Testing Equipment are properly Earth pit, Checked by periodic calibrations and testing?
Related Topics: