Shutdown work evaluation
Shutdown work evaluation process is established to manage shutdown works and estimating work done in time frame.
Shutdown work evaluation process is managed to recording information and document the progress and work that done during the time frame is managed for identify the reasons of requirements of internal management system, the projects are established and implemented in the workplaces are managed on completion of the project as shutdown work and its assessment are conducted for the analysis, which each project is recorded and conducted for analysis. Shutdown work evaluation or assessment are conducted for the managing each project records are shutdown that is completed during defined time frame, the records are managed accordingly, the system is deployed for supporting project requirements, analysis project requirements as well as workplaces requirements that projects are needs to establish for particular process, manufacturing or supporting processes improvement and enhancing system.
Shutdown work evaluation process is maintained by concern manager or general manager, and responsible for the conducting each processes, managing records for conducting concern information of the each project had completed to compliance of requirements of various places in workplaces, the system is deployed by concern manager, and all concern records are managed accordingly, see picture below given as example format of the shutdown work assessment where all the completed projects are considered for recording and same the records are maintained, below picture given for education purpose: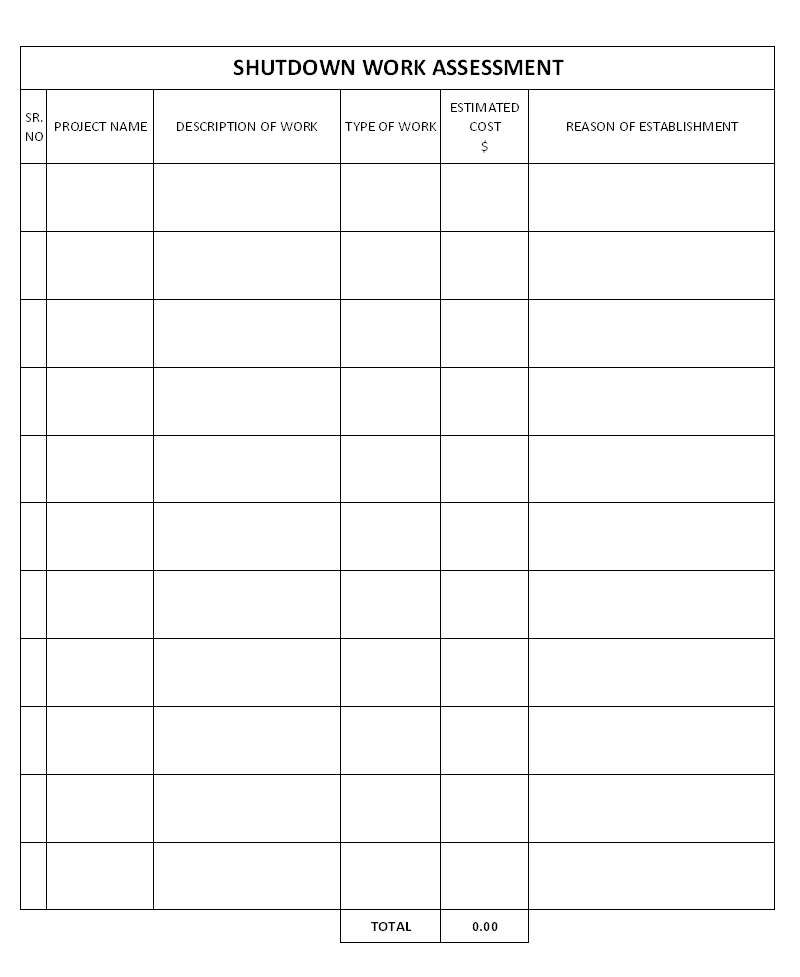 Shutdown work assessment format is used for the recording information from the requirements of various processes, levels in the workplaces and management is establish projects of compliance of requirements, the records of shutdown is maintained when any project is completed, and managed for analysis purpose. The documentation is maintained as per project manager that is internal management system and documentation system is provided the supporting guideline to maintained records.
——————————————————————————-
Download format in word document | Excel Sheet | PDF format
——————————————————————————-