Failure Analysis Report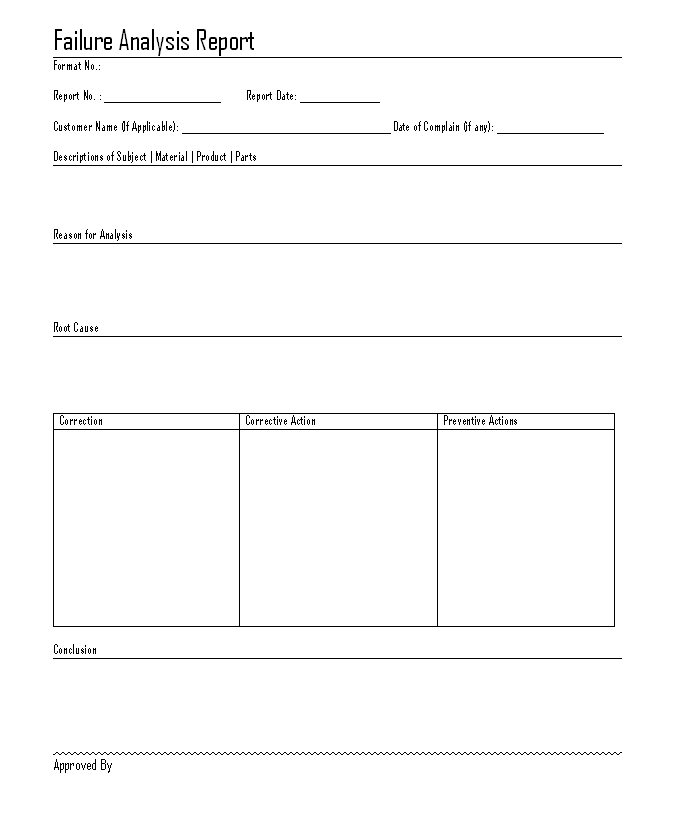 Report No. & Report Date of Failure Analysis report

Customer Name and Date of complain ( if applicable ) this details are required if the failure analysis are for rejected product, complained by customer to detailed information are needs to collect from customer, hence this details required if failure analysis concern to customer.

Descriptions of subject, Material, Product, parts – if the failure analysis is concern to product, material or parts that need to mention as priority for failure analysis to understand root cause, corrections and further actions.

Reason for analysis – Why this analysis is important or required to needs of analysis for the particular subject, main reasons, detailed information for reasons are required for go in deep in the subject information.

Root cause of the failure analysis is main part of the failure analysis reason is the root cause is deep information, main problem identification tools for the failure analysis, why, how, when, where, what.. all the subjective information is merge in root cause of the failure analysis.

Correction, Corrective and preventive actions after the root cause find out, during the analysis after the major reason findings needs to immediately correction actions required and same as corrective actions and preventive action are required to avoid same problems in future.

Conclusion of the full analysis report.
EXAMPLES, SAMPLES & FORMATS
You would also like to read: