Toolbox meeting record
What is toolbox meeting?
A Toolbox meeting is a group discussion of individual department's peoples that discuss subjects on a particular issues concern safety.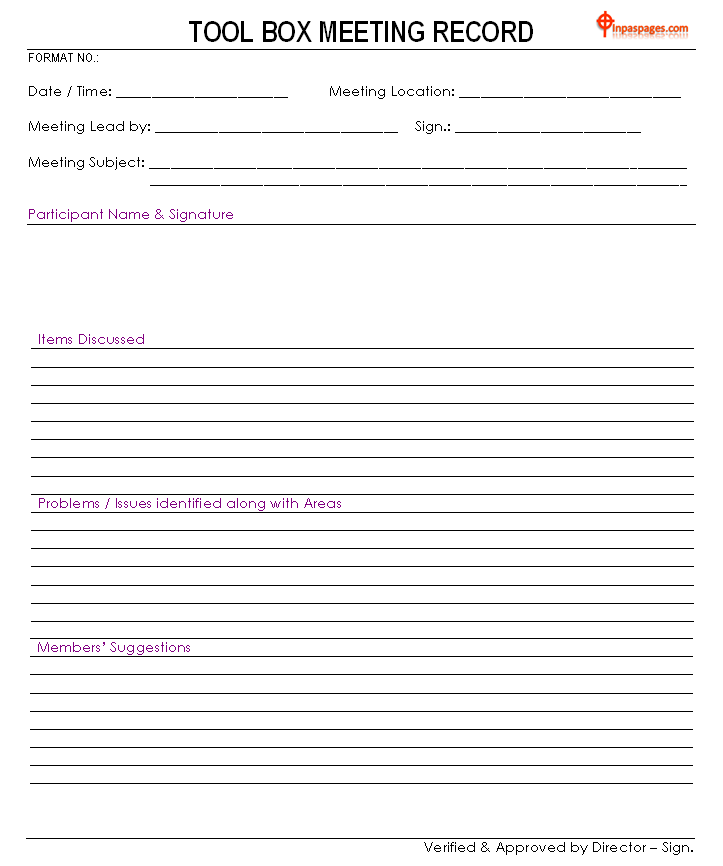 Toolbox meeting is also called as safety toolbox talk meeting for the purpose of the maintain safety in the workplace, this can be open discussion in group of supervisors, managers, workmen, contractors, operators and supporting team for compliance requirements of the health and safety in working environment. In the toolbox meeting mostly discuss the subjects of the safety concerns, health concern, hazardous areas and hazardous material handling, operating and movement where heavy equipment and heavy machineries are used in workplaces. In the toolbox meeting what kinds of subjects are involves:
Hazards – Mostly peoples of workplaces are very worried about hazardous equipments, tools and hazardous activities that directly effects the peoples are working around it, hence this is very important and prior subject.

Fire concern – Fire is also big emergency can create hence this should on priorities and mostly discuss on subject by open views.

Supporting Equipment – Supporting equipments are mostly overhead cranes, forklifts, ladders etc.. Which are directly concern with peoples that is also frequently in use of the manufacturing and its process's activities.

Personal protective equipments are also on big issues and subject, PPE are most important for the discussion, peoples can suggest the PPE requirements at the workplaces and comments on the situations related to PPE.

There also big issues like general safety, weather conditions, confined space, heating and burning equipments and tools etc..
As all above discussions of meeting is generally discussion base that all the discussed issues, solutions & meeting subjects are need to records in the single format, this format called toolbox meeting record, in the toolbox meeting all the data are fill up for the future requirements, analysis and open issues and targets can met. For the toolbox meeting record here as below given sample format as below:
Date and Time of the toolbox meeting held, meeting locations are also need to mention in the record format

Toolbox Meeting leader name and signature

Toolbox Meeting prime subject, there are also possible that more subjects are comes front in discussions.

All the participant name and signature

Details of items discussed in Toolbox Meeting

During the discussion identified problems, issues along with places where happen or may be possible.
EXAMPLES, SAMPLES & FORMATS