CRM Action plan template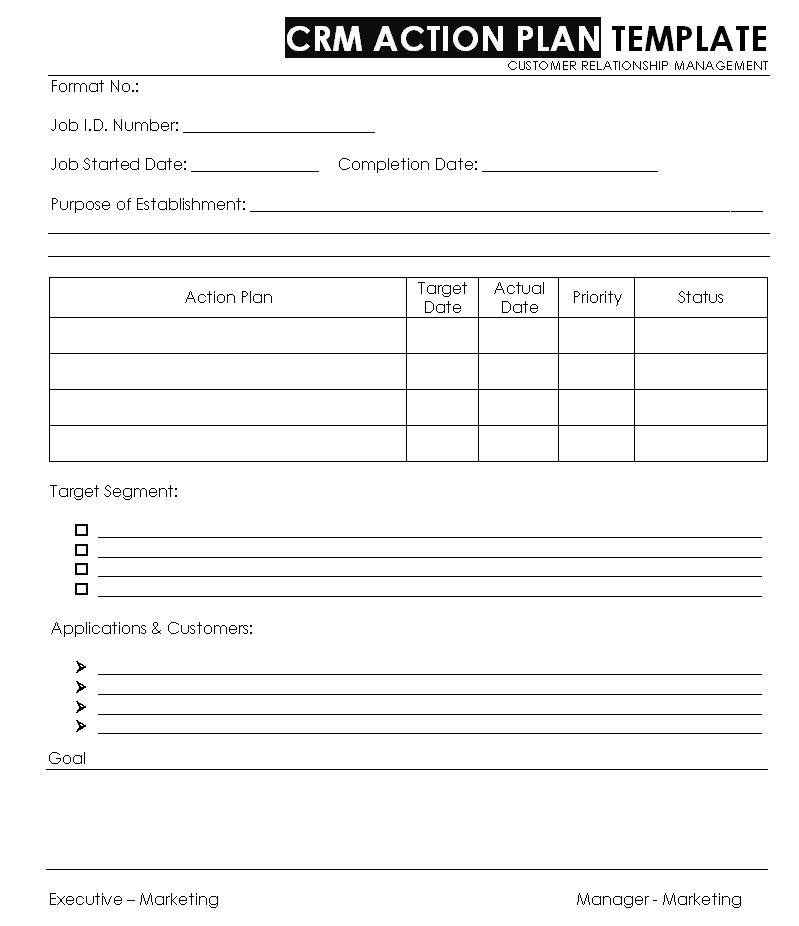 CRM – Customer Relationship Management is systematic process to improve interactions with customers & marketing strategy by technologically
Customer Relationship management – CRM is a system through possible to interactions with all the customers, systematically arrange internal processes like sales, marketing, customer services and support through advance technology for improve productivities and length of conversions, internally as well as external affairs.
Through Customer Relationship management (CRM) helps in analysis of the vendor concern, reviews of the recent activities of market and customers requirements to serve better communicate with customers & enhance customer satisfaction by CRM guidelines. Now days CRM is necessary for the business growth due to high competitions market, business management & timely serve and support customer's feedback, comments and suggestions.
To consider long term business concern, relationship with customers and management of the each activities to involved with customer satisfaction, mostly marketing related issues and supports that required long term action plan for the customer relationship that customer relationship management action plan are need to establish and update as and when required to maintain level of market growths and changes.
For the customer action plan, here as below given example format as below:
Job Identification number, Job start date and completion date

Purpose of the establishment of CRM action plan

Action status – Action plan, target date, actual date of completions, and priority of action plan and current status of the action plan' point.

Target Segment – This CRM action plan is prepared to target which segment, might possible multiple segments are used single product that need to make a strategy for long term planning.

Application & customers – there are also possible that, for some applications, customers are in middle of planning to enhance sales to consider its requirements that is more profitable to others applications.

Goal of the whole customer relationship management action plan.
EXAMPLES, SAMPLES & FORMATS