Waste Management Template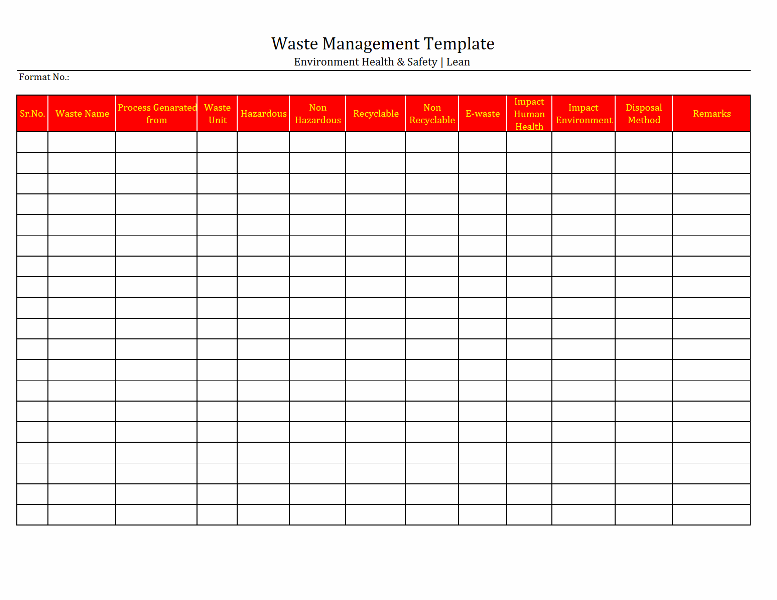 For Environment health and safety compliance, waste management is necessary to which is generated from various manufacturing process & in used of process to produce product or supporting process. Generally waste management's primary step is identification of waste, waste can hazardous or non hazardous, recyclable / non recyclable etc… Generated Scrap from control panels or any electrical appliances waste are count in e-waste ( Electronic Waste) this e-waste is hazardous material hence its also need to controlling and disposal required as per OSHA guideline.
As you can see picture below, waste management template is given for the reference to start up step of waste management, identification of the waste is covered in this template that is basic waste which mostly generate in industry and its format fields as below:
Waste Name
Waste Generated from process
Waste Unit
Hazardous material
Non Hazardous Material
Recyclable
Non Recyclable
E-waste
Impact on human Health
Impact on environment
Disposal Method
Remark
Waste management system is also clubbed with some successful system viz… lean management system, MFCA (Material flow cost accounting), 3R etc… , these systems are focus on the waste management, reduction in waste from manufacturing process and others production parts, hence the waste management is not only system but it today requirement of companies who want to reduce depreciation of natural resource and cost controlling on its manufacturing unit.
EXAMPLES, SAMPLES & FORMATS
You would also like to read: