EHS Internal Audit: Environment Health & Safety (ISO 14001 / OHSAS 18001)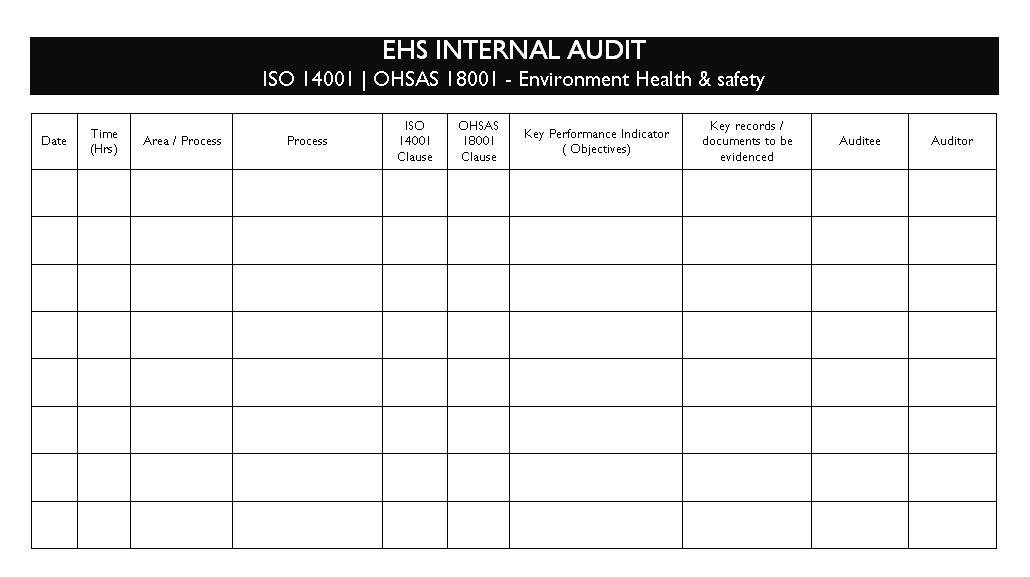 EHS – Environment health and safety is integrated management system that according to international standards ISO 14001 (The International Organization for standardization) & OHSAS 18001 (Occupational Health and Safety Assessment Series / System) helps to maintain consent requirements of government laws, regulatory and statutory requirements, employee health and safety requirements & assessment system. There are many things are not possible to cover in some sentence but overall this system help to makes working environment better to support company growth.
For the maintain, improvement in EHS system that required timely conducting all the concern activities, document audit to enable find out root of the continual improvement, here as given basic stand for the EHS internal audit that is perform by internal qualified audit of the company, those auditor should be well qualified by authorized training centers. Here as given below sample format for EHS internal audit:
Date of the EHS internal audit had conducted. With time

Area / Process where EHS internal audit had performed.

Process that is sub title process where qualified auditor performed task

ISO 14001 / OHSAS 18001 – Clause that process is belong.

Key performance indicators that are company objectives / departmental objective for particular process in case defined.

Key record / Documents are evident during EHS internal audit

Name of Auditee and Auditor for records.
EXAMPLES, SAMPLES & FORMATS