Fire extinguisher inspection checklist
Fire extinguishers are requirement of industrial accidents, in industry almost any industry used material, chemical or stationery are high flammable cause major accident that loss can be raised by financially & humans, some time high flammable chemical cause huge scale fire accident that unit can possible to burn as past experienced we show at various industry at any industrial areas.
Fire extinguishers having categories:
A type fire extinguishers
B type Fire extinguishers
C type Fire extinguishers
D type fire extinguishers
All above categories description can found in previous article "  what is fire extinguisher? " , those as type of fire extinguishers are deployed at areas are having high risk of the fire accident, right fire extinguisher should be at right place is also huge subject of security & safety concern department.
In the fire extinguisher inspection checklist, some basic criteria should be need to covered & focus on those area can avoid risk of the failure of emergency extinguish, basic inspection criteria as below:
Correct type of extinguisher for emergency risk
Pressure should be met the requirements given in instruction note of manufactures of fire extinguisher
Seal should be at place, broken, open seal is not acceptable, if the seal open found that need to replace the fire extinguisher immediately.
Fire extinguisher should be away from direct sun light & weather contacts, if the found that change the place of fire extinguishers immediately with replace fire extinguisher for inspection.
Expiry date of the fire extinguisher is most important requirement, expired fire extinguisher never pressured on the fire with basic components of extinguishing is death as result fire never stop by it.
Calibrated gauges should be installed on fire extinguisher to ensure the fire extinguisher reliability.
For the instant use of fire extinguisher inspection checklist is available for download for organization, this is ready made format that useful to any company who are aware of the safety & health of organization's peoples.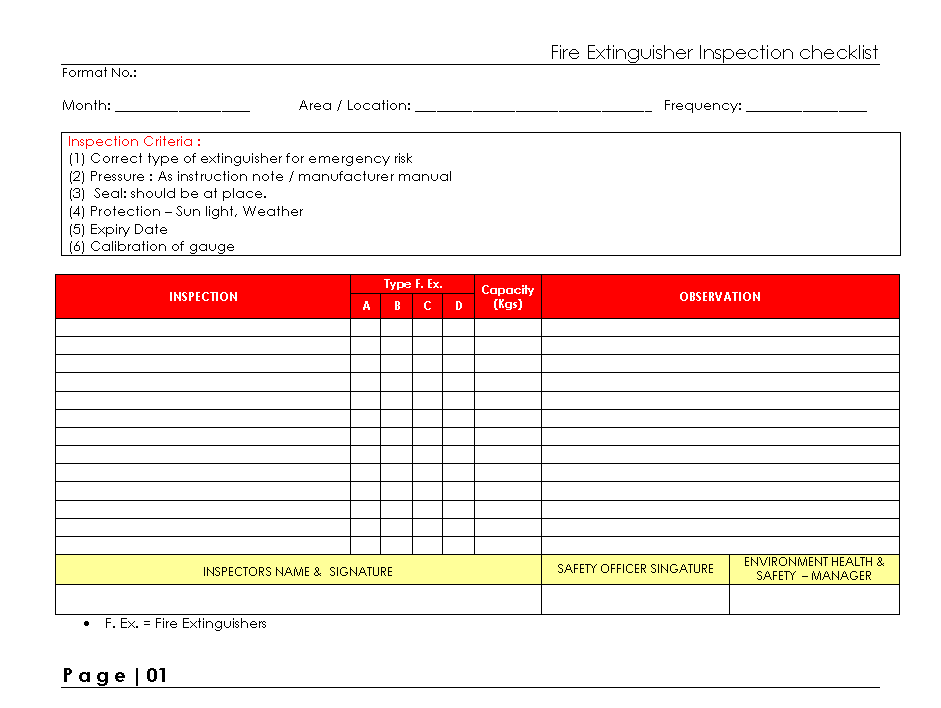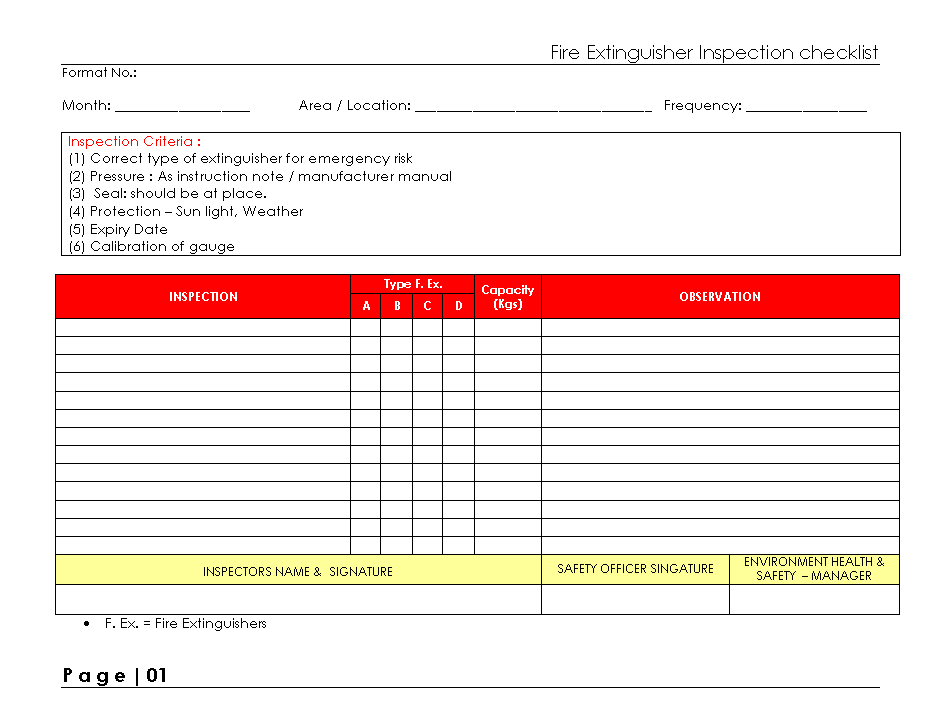 EXAMPLES, SAMPLES & FORMATS
You would also like to read: