How to identify key product and process characteristics – Quick Guide
The purpose of establishment of process for identification of key product and process characteristics is to provide a structure for facilities instantaneous engineering, cross functional involvement and process design, methods for improvement and variation reduction.
Process characteristics: For implementation of any system, process, method or technique in workplace. You have to establish proper procedure for it. Here some helpful hints which merged information to focus on process characteristics. The procedure contents will help you to manage effective framework for facilities simultaneous engineering, teamwork & cross functional management in production lines. The process designing, defining control methods and improvement in existing system.
Cross functional team Role
Here in this article, we provides guidelines (education purpose only) for key characteristics term system. The implementation of process in addressed locations required to define cross functional team. Team for appropriate locations to assign duties and responsibility as addressing particular tasks, key product & process characteristic requirements. The involvement of cross functional team is important for identification of key products and process characteristic.
Generally, the process is establishing by product development team. And should collecting documents & reviews with contribution of cross functional team to preparation of potential product characteristics.To identification & reviews the information such as drawing, standards, process FMEA data, process capability, and product evaluation documentation. As the prime documents for identification of process. Manufacturing and quality team role will be comes once the completion of identification of key product characteristics. Till than The CFT should manage of the key characteristics designation system process and pass the information to quality team.
Control Plan, The key document building..
The control plan is important document that required for addressing each product & processes for monitoring & control over processes. The key control characteristics are defined & documentations are used to develop & implement of control plan. Inputs from customer are also important & considerable.  The customer identified special characteristics should be verified. You have to ensure that special characteristics are mentioned in received documents from customers such as documents & drawing. You can also refer the customer provided technical sheet. In case included with related product design & defined by customer for product & process respectively.
Identification of key product & process characteristics 
To identification of key product characteristic needs to verify and review the information collected through test data and its records. As well as verify standards document support, designing experiments, process capability and related analysis documents, failure mode and effects analysis are general documents.
On completion of identification key product and process characteristics. Cross functional team should need to selection / identification of criteria. To ensure the process management as designed. The identified key product characteristics anticipated variation. That could significantly affect a product's compliance. The team should ensure that the key process characteristic should be significantly reduce the variation. Improve quality and customer satisfaction. it should be traceable to performance requirements.
Key process characteristics
Key process characteristics are important to the part performing with its function. Demands additional controls, capability studies and ongoing control. Because the effects of the manufacturing variations are significant. The team should be considered the functions. Safety compliance includes all provisions as under standards requirements. The document used to manage activities of key product & process characteristics. The dimensional planning is conducted to ensure the product quality, see picture below provided for education purpose: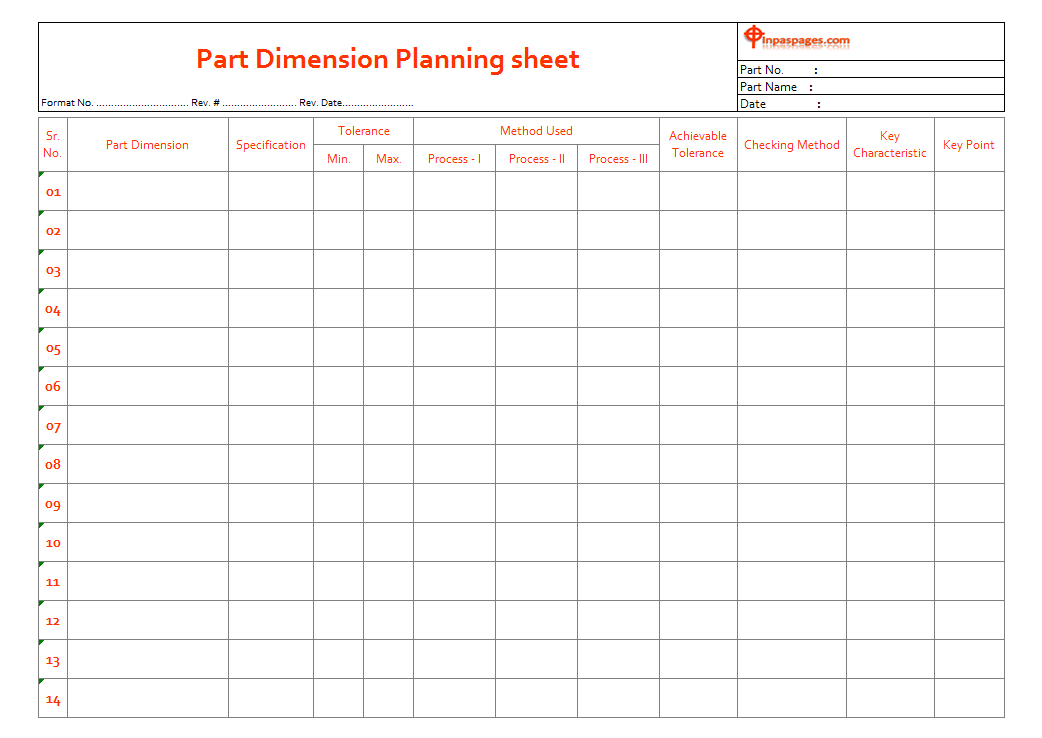 Document reviews – by cross functional team 
The cross functional team is conduct the reviews. Identify the factors that needs care to apply to all the key process characteristics effectively as standards guidelines. The additional factors are, process review, process diagram and control plan establishment and implementation. Monitoring system to ensuring process control and its stability, with conformance to achievable goal and variation / deviation reductions.