Induction training program
What is purpose of induction training?
Induction training is given to new join employees during induction period to assistance a new employee quickly aware with the staff, their job tasks and working environment.
What is meant by induction training?
Induction Training is the preparation and teaching to employee on first joins an organization or change works' nature. Induction training is providing by organization to enables a new joined employee to become more efficient to dedicated work as quickly. Generally, in induction training procedures, techniques, methods of works.
Types of Induction Programs
Introduction to the company, department and internal system
Company policy, rules and discipline and introduction of terms and condition
Legal and regulatory requirements
Introduction of key members
Payroll details and other related information
Specific title / Job description
Role of employee in tasks, job
Guidelines and techniques for tasks
Procedures for works etc.
See example of how maintain induction training program record: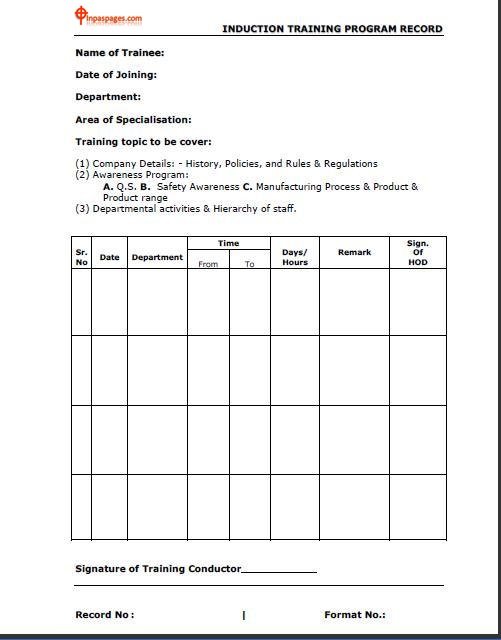 Induction training is primary training given to person who new jointed department or company. Induction training also called department oriental training. Reason is when any person's transfer department or join the company, person need a understanding to concern department internal as well as company & department details.
All the new join personnel should conduct induction training program. Human resource department head is communicate and arrange the induction program. The induction training program will conduct generally for the personnel who join the company during the month. Human resource department is preparing and attendances of participant records are maintained. Human resources department executives are communicate with department head for the department requirements. Internal management system and department individual process are in center of the training. Human resource department prepared schedule for training. Trainer arrangements and place, where induction training is being perform.
Generally, peoples are asking? What type of program we can involve in Induction training program? Here below is table for explaining state example for it:
Process / Department
Focus Area (General)
Human Resources

Joining Formalities
Filing up of various statutory & non statutory forms
Leave policy, Attendance System
Payroll – system & working
Asset Tracking, Recording and Management
Organization Overview and Induction
Introduction to various departments

Engineering
Production Introduction & working of the engineering Department
Finance
Financial Policies & Expense statement claim system
Purchase
Introduction to purchase, Purchase order procedures, Vendor rating, Environment Health & safety system norms followed with vendor
Manufacturing
Working of the manufacturing department, Technicalities
involved, policies and procedures, requirement of the manufacturing team
Quality Assurance / Quality Control testing
Working of the Quality assurance / quality control and testing area, quality
policy
Warehouse
Working of warehouse, policies & procedures, documents and OSHA norms
Induction training is necessary for fresher or experienced person to work smooth on floor level. Here you can see below picture, for records for induction training program. Induction Training program record sheet to know how to conduction the training. And how to manage records, see picture & format for induction training program record:
 ——————————————————-
Download human resource formats in Word | Excel | PDF
  ——————————————————-