Customer satisfaction Assessment
Customer satisfaction Assessment: When our business run smooth, naturally we are not taking much care about enhancement for customer satisfaction. The reason can be monopoly or quality best producing at that movement. But when competition become strong, market gone down drastically at that movement, we must walk up & see what is happening around us as well as what's our customers' test.
For the assessment of satisfaction of customers, best way to send copy of customer satisfaction assessment to customers. customer will be fill up that details, obviously dozens of complains & comments you will found when you get return back.
Benefit is – you never thoughts about customer buying material since long time but also having little complains which never told you. But in the customer satisfaction form, customer must apply.. if not apply you have to force to do it. As result try to enhance customer satisfaction as feedback of customer satisfaction form.
Customer satisfaction format | samples | you can free download as below: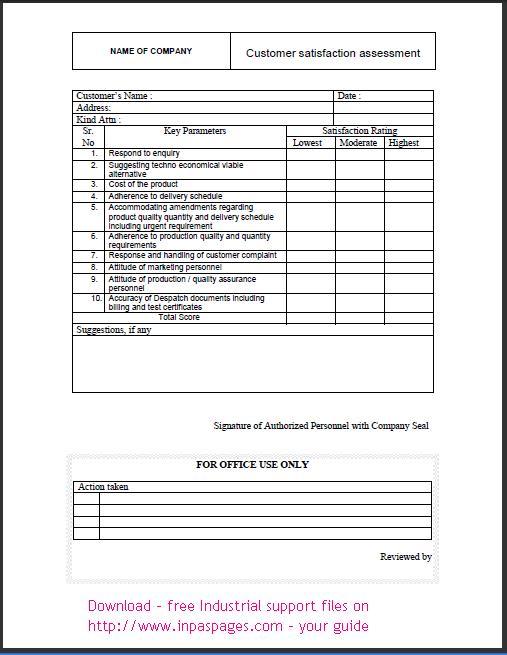 Assessment Method
Customer satisfaction survey are conducted to identify basic factors which customers satisfaction might reflects, the level of customer satisfaction measured & assessment is conducted. To some specifications which is needs to fulfill & get the feedback to enable improvement by systematically ways.
Assessment of customer's satisfaction is conducted at least once in year on base of last year sales.
Customer satisfaction assessment is points, requirements are managed by marketing head, all specific requirements for the assessment to enable improvement in services, products and understand requirements.
All the customer satisfaction feedback is reviewed, all suggestions, comments are compared against particular customer communication to resolved the issues & enable improvement in relationship.
All the customer satisfaction is proper analyzed & the satisfaction level is defined for the further actions and targets that possible to move to maximum satisfaction.
Managing Customer Satisfaction
To effectively implement or manage customer oriented processes, needs to implement in customer feedback. A process to monitor information related to customer opinion as to whether the organization has met customer desires, comprehensive of the technique of attaining & using the information (like Customer survey), and to monitor the customer satisfaction through continual assessment of performance of the understanding process to customer. To ensure the key performance indicators for customer satisfaction are sustain and monitor based on the objectives. To regulate & implement effective measures for interactive with customer in relation to customer feedback including customer complaints. To deliver & maintain a process for communication of information of facility concerns to manufacturing, engineering and design activities.
Customer satisfaction Review
Customer satisfaction reviews are conducted on base of the customer satisfaction survey report. Maximum feedback are collected from customers which are sales by last year, for the customer satisfaction review. All the feedback are proper short out for the conducting the review process, customer satisfaction assessment forms, records and analysis helps to review to identify trend of the customer view for the product / services and reputation of the company.
Customer satisfaction review is analysis information of customer specific requirements. To provide support to understand the communication, requirements and services concern. The feedback is analysis & review output is improvement in services, product quality and other commercial terms. Which outcomes of customer satisfaction assessments, the satisfaction level is determined and effective actions are raised to future relation with customer.
 ————————————————————————–
Download format in Word | Excel | PDF Format
 ————————————————————————–