A store audit checklist is document that is important aspect of ISO 9001 audit for the store area. This checklist tool is helpful to ensure that the store is complying ISO 9001 requirements, and confirm that the all the ISO 9001 standards' clauses are met.
Overview to store audit checklist for ISO 9001
In ISO 9001 implementation in organization, the store department is playing important role to managing incoming materials, storage raw materials, chemicals, tools & engineering materials as well as consumable goods, so its important for the maintaining quality management system, store department should be accurately manage all the tasks under the store department authority and ownership.
In the ISO 9001 – quality management system, audit is necessary and important part to maintaining system and implementation as well, so the audit is conduct in the entire department as per scopes are define in manual. Here we are discuss on the store department audit, which is also major transitions of quality concern are records at general views.
How to audit store activities as per ISO 9001 (Quality management system) requirements
Let's see which places store department involve in quality management system and audit concern:
The store department is directly involve in all the incoming materials to includes raw materials, hence all non-conforming product either receiving form supplier or form different stages of manufacturing are should store separately in the design areas is responsibility of store department hence the audit team should consider it and verify accordingly.
Some time the materials are receive from customers as the property or returning materials, so all non-conforming materials receive a customer- supply product are return to customer as discussion with concern authority, these requirements of ISO / TS 16949 should be covers for audit.
Store department personnel should involve in management review meeting and records should be submit and discuss on issue, audit team should be clear about it.
Quality evaluation of supplier is direct responsibility of store, hence the ISO 9001 store audit and its checklist should be cover the points require in line with ISO 9001 causes.
Any product that is lost or damage is or otherwise unsuitable for use shall be record, report to management, the records should maintain and verify by responsible person. The auditors should verify the records of lost / damage materials in sequences of processes.
ISO 9001 and TS 16949 both the standards are recommend for unitize materials should return to concern, audit must cover it.
The ISO 9001 implementation in store department is important, hence the audit team should verify the requirements of quality management system's clauses.
Store Audit checklist template
Store audit checklist – Useful for ISO 9001 & ISO/TS 16949 system: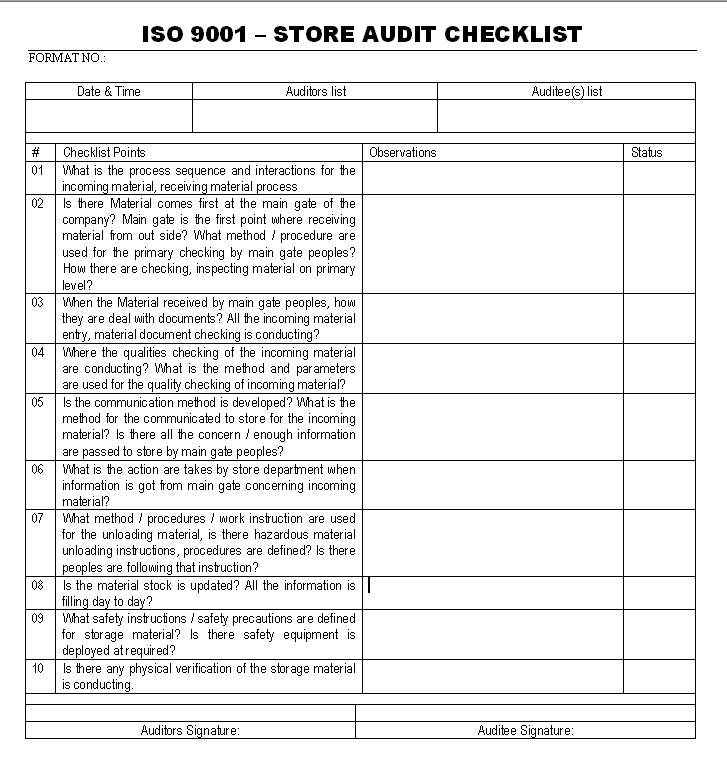 What to include in store audit checklist?
What is the process sequence and interactions for the incoming material, receiving material process?

Is there Material comes first at the main gate of the company? Main gate is the first point where receiving material from out side? What method / procedure are use for the primary checking by main gate peoples? How there are checking, inspecting material on primary level?

When the Material receive by main gate people, how are they deal with documents?

All the incoming material entry, material document checking is conducting?
Where the qualities checking of the incoming material are conducting? What is the method and parameters are use for the quality checking of incoming material?
Is the communication method is develop? What is the method for the communicate to store for the incoming material? Is there all the concern / enough information are pass to store by main gate peoples?

What action are require from store department, when information is get from main gate on incoming material?

What method / procedures / work instruction are use for the unloading material, is there hazardous material unloading instructions, procedures are require for define? are there peoples are follows that instruction?
Is the material stock is regular updates? All the information is filling day to day?
What safety instructions / safety precautions are need to define for storage material? Is there safety equipment is deploy at require?

Is there any physical verification of the storage material is conducting.
EXAMPLES, SAMPLES & FORMATS: Download
Related: