Measuring Device Checklist
A measuring device checklist is a document to verify the measuring device's functions, measurement scale, and accuracy. With this checklist, all the require check points are pre-print which may defines as per standard requirements and device's manufacturer's guidelines.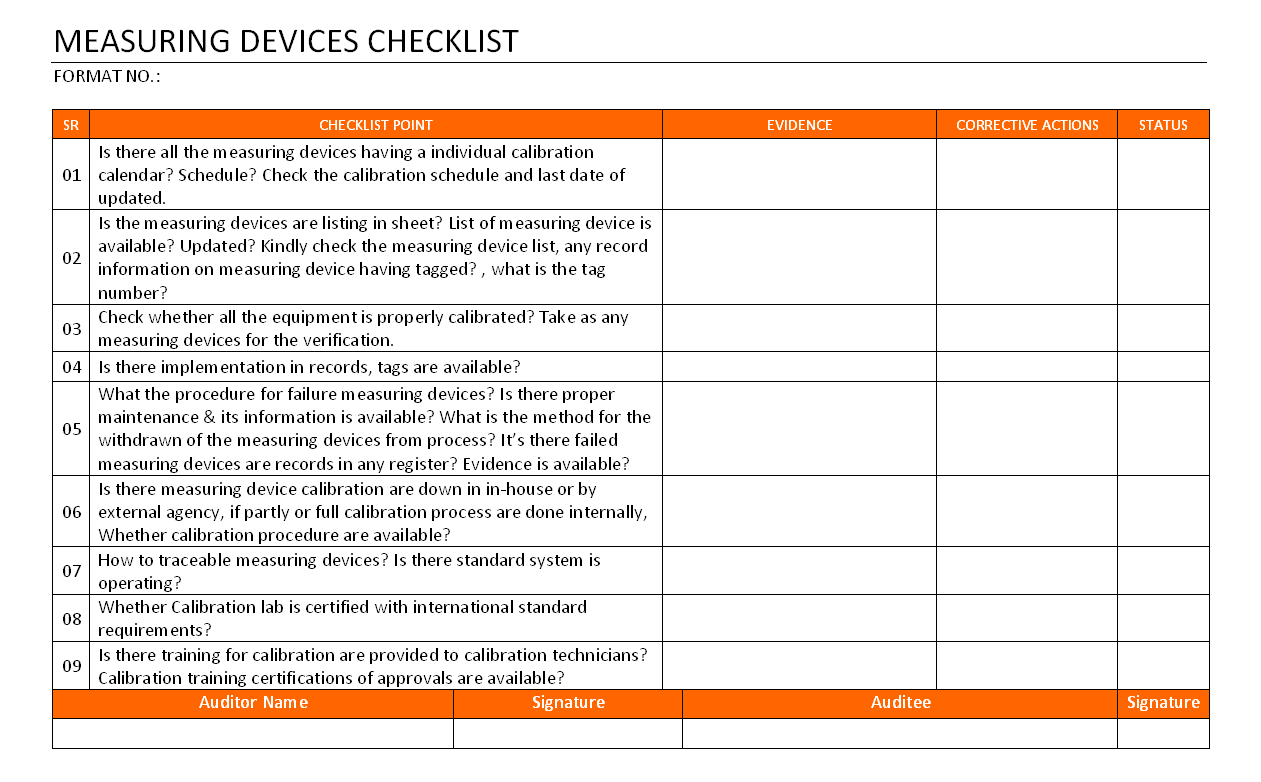 Overview to measuring device checklist
The purpose of prepare measuring device checklist is to ensure measuring device is measuring accurately. Normally, it may verify of each measuring device's calibration, accuracy and precision. Generally, organizations can establish the requirement of measuring devices, which may identify from process documents, and technical manuals. Normally, the frequency and accuracy should be determines as per process documents. This measuring device checklist is covers all the devices concern requirement. To ensure the device accurately perform for measuring processes and comply standard requirements.
How to use checklist?
The checklist should be maintain points about calibration or verification at specified intervals / prior to use against measurement standards traceable to standard measurements. Basic points that needs to covered at:
Calibration – Calibration schedule, updates and records
Each device should contain label / tag to describe about device
Repair / maintenance information
Traceability system for master device
Each device should be calibrate as per ISO 17025 or international standards
Device training for operation and measurements.
The calibration procedures are used to ensure that measuring and monitoring devices are protected from damage and comply with calibration requirements, hence the device checklist should must covered calibration requirements, re-calibration and related matter.
What to include in measuring device checklist?
See sample points for measuring device checklist:
Are there all the measuring devices having an individual calibration calendar? Schedule? Check the calibration schedule and last date of updated.
Are the measuring devices are listing in sheet? List of measuring device is available? Updated? Kindly check the measuring device list, any record information on measuring device having tagged? what is the tag number?
Check whether all the equipment is properly calibrate? Take as any measuring devices for the verification.
Is there implementation in records, tags are available?
What the procedure for failure measuring devices? Is there proper maintenance & its information is available? What is the method for the withdrawn of the measuring devices from process? It's there failing measuring devices are records in any register? Evidence is available?
Is there measuring device calibration are down in in-house or by external agency, if partly or full calibration process are done internally, whether calibration procedure is available?
How to traceable measuring devices? Is there standard system is operating?
Whether Calibration lab is certified with international standard requirements?
Is there training for calibration are provided to calibration technicians? Calibration training certifications of approvals are available?
Measuring device checklist should have cover to considering requirements of calibration, calibration manual contains all the relevant information of the device, hence the device record, re-calibration, calibration program and other measuring device requirements should be merge. As per calibration manual, each device should unique identification number and serial, device rejection, records and related information are needs to enclosed.
EXAMPLES, SAMPLES & FORMATS: Download
Related: