Gas cylinder stock record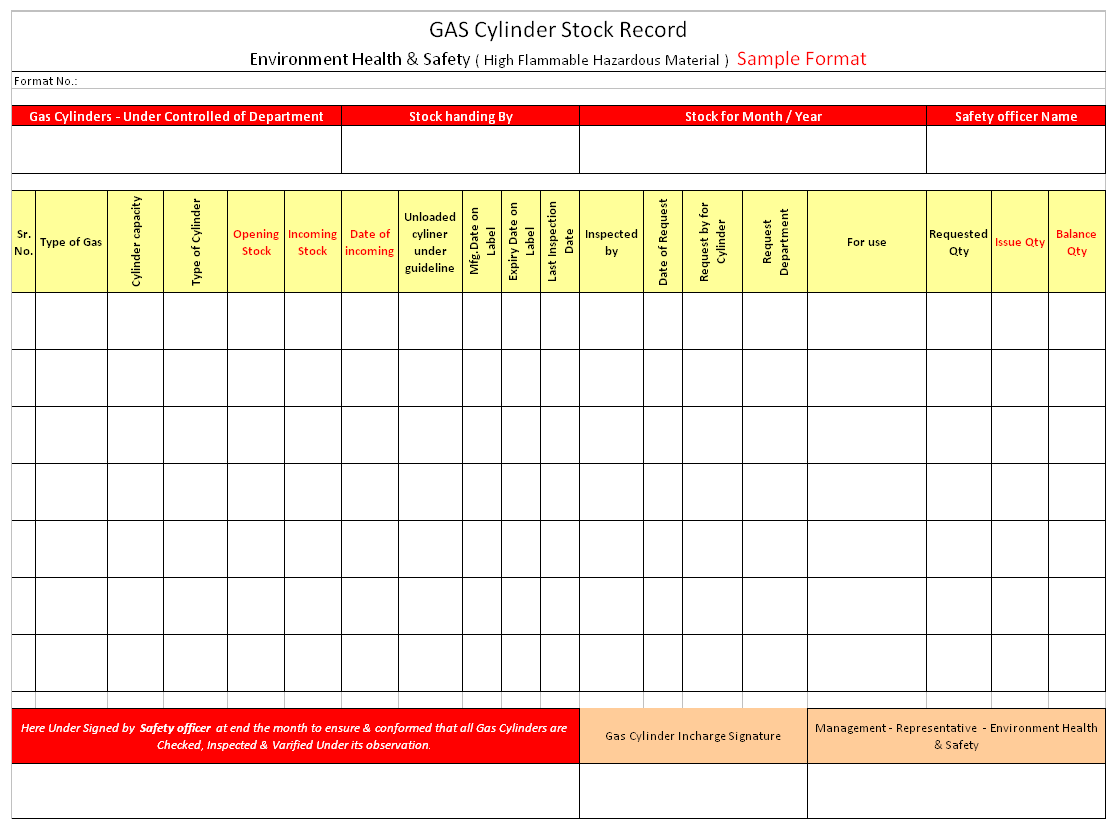 Gas cylinder – under controlled of department – Gas cylinders stock and maintain responsibility details had taken by which department.
Stock handing by  – Gas cylinder stock handing by name of the person, designation for records
Stock for month and year – currently maintained stock record for which month and years, this information will be change every month.
Safety officer name – Name of the safety officer, if the company is small scale level that possible single safety office can handle all but the multiple located or huge works capital company need more, hence in charge safety office name is required.
Details of the stock records
–         Type of Gas details, short details and type of gas is very important to mentioned in stock register, on base of this information stock and its handing is depends.
–         Cylinder capacity and its details are labeled on cylinder.
–         Type of Cylinder – cylinder type is also important things that, base material of the cylinder should be identified.
–         Opening stock
–         Incoming cylinder and date of incoming cylinder
–         Unloaded cylinder under guideline of the qualified supervisor who had knowledge of the Material safety data sheet of the cylinder and well experience of the inspection, testing, checking of the cylinder to ensure the cylinders are well condition at time of unloading from truck or any vehicle.
–         Manufacturing date on label of cylinders
–         Last Inspection date should be tagged on the cylinder along with to ensure the quality passed.
–         Inspected by – internally inspection of the cylinder should be conduct inspection timely.
–         Date of request  – this is the out going cylinder detail that user department request for cylinder
–         Request by for cylinder – what is the work with cylinder should be need to clarify here.
–         Requester department – name of the department
–         For use – details of the used of the gas cylinder is must intimate in this format, otherwise misused cause accident / incident in company.
–         Requested quantity – user department requested quantity mentioned here
–         Issued Quality is out going quantity as well approved quantity for used at user department.
–         Balance quantity – remain stock of the gas cylinder
–         After the month stock register will be checked and verified by authorized personnel, mostly safety office need to daily care of the incoming and out going cylinder stock to maintain safety.
EXAMPLES, SAMPLES & FORMATS
You would also like to read:
WORKSHOP TOOLS MATERIAL SAFETY AUDIT
MATERIAL HANDLING EQUIPMENT CHECKLIST
ENVIRONMENT HEALTH & SAFETY GENERAL INSPECTION POINTS