Environmental checklist points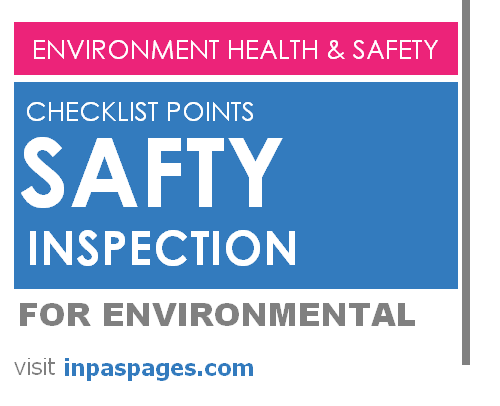 Workplace  environments free from hazards / Aspects

Hazardous or combustible materials – department wise marked & noted?

Personal protective equipment – department activities respectively?

General housekeeping, improvement is dust free environment, chemical fumes, burning gases emission controlling methods?

Lighting, temperature and ventilation – Offices, workplaces, general area, toilets, canteen, and pantry?

Electrical outlets and wiring are safe – general admin areas, walls in factory premises, within department, under ground wiring?

Machinery/appliance guards – each rotating things, wheels, chains etc..?

Machinery/appliance markings and notices – identifications numbers e.g. crane nos, rope identification no?

Building Structure (Damage, Danger Condition)? Should be Stability certified, earthquake proof.

Proper Air circulation – Each department, storage rooms, work places, general area, area where covered by walls?

Fitness Certificates of Vehicles, PUC license available of all the company vehicles? & Driver fitness certificate, driving license is available?

 General Hazardous / Aspect like batteries, Circuit boards etc… Disposal records, verify the authorized personnel whose collecting all?

All required certificates like air emission, noise levels etc… certificates are available?
Related Topics: