Equipment Maintenance Plan
Maintenance is work on very special task that on base of the information / records & condition of equipment / machinery that had plan for the maintenance of equipment / machinery. Maintenance are work with planning to compliance of task requirements, records and effective performance are depends on planning of the equipment maintenance plan, each part information, reliability and believe are depends on records and conditions that visually, mechanically depends on measurements /  testing are applied for equipment.
Equipment maintenance plan is prime requirements, if the equipment Is heavy and there are lots of parts are need to check / test and inspect by the visually and some mechanical testing, some equipment. Preventive maintenance is also part of the equipment maintenance planning, but cleaning lubrication, inspection and tightening is different think that preventive done by some frequency for machine / equipment by maintenance department.
Maintenance department are conducting information, records and some manuals are helpful to planning of equipment maintenance, all the information are used in equipment maintenance plan that here sample format are available as below:
In the Part -1:
Equipment Name / Details of equipment
preventive Maintenance planning
Inspection / Checking planning
records and notes planning
corrective maintenance / on base of the previous maintenance
In the Part-2:
Equipment maintenance testing / inspection records
Details of equipment / each part details
Location / area / department where located
equipment calibration records
required actions
Job completed
further requirements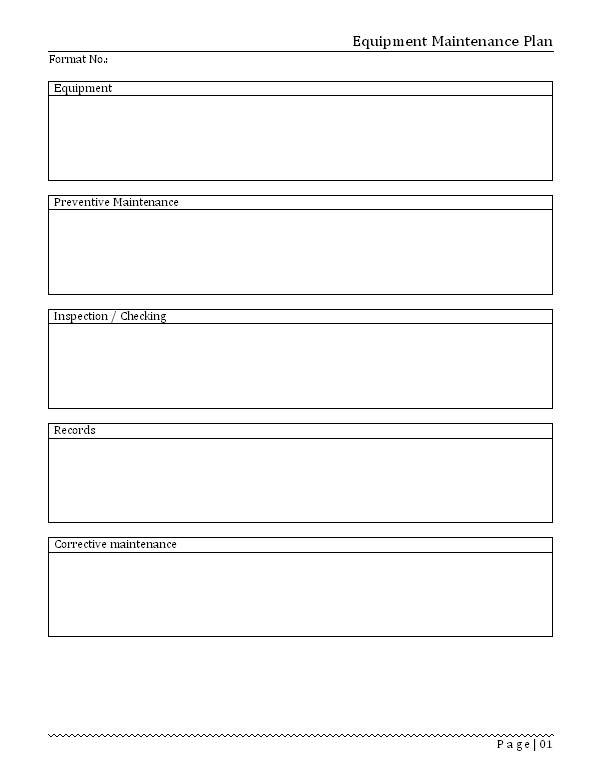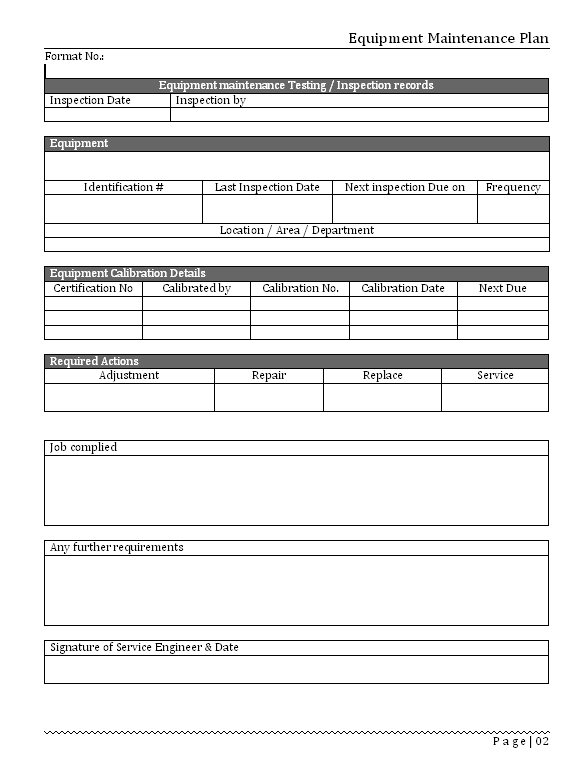 EXAMPLES, SAMPLES & FORMATS
You would also like to read:
| HEAVY EQUIPMENT INSPECTION CHECKLIST | HEAVY EQUIPMENT FAILURE ANALYSIS FORM | LIFTING EQUIPMENT REVIEW FORM | EQUIPMENT TEST RECORDS | EQUIPMENT MAINTENANCE RECORD | OVERALL EQUIPMENT EFFICIENCY – OEE | HOIST INSPECTION CHECKLIST | MACHINE MAINTENANCE PLAN | SERVICE REPORT | WORK PERMIT FOR WORKING ON HEIGHT |