Fire Precaution Record sheet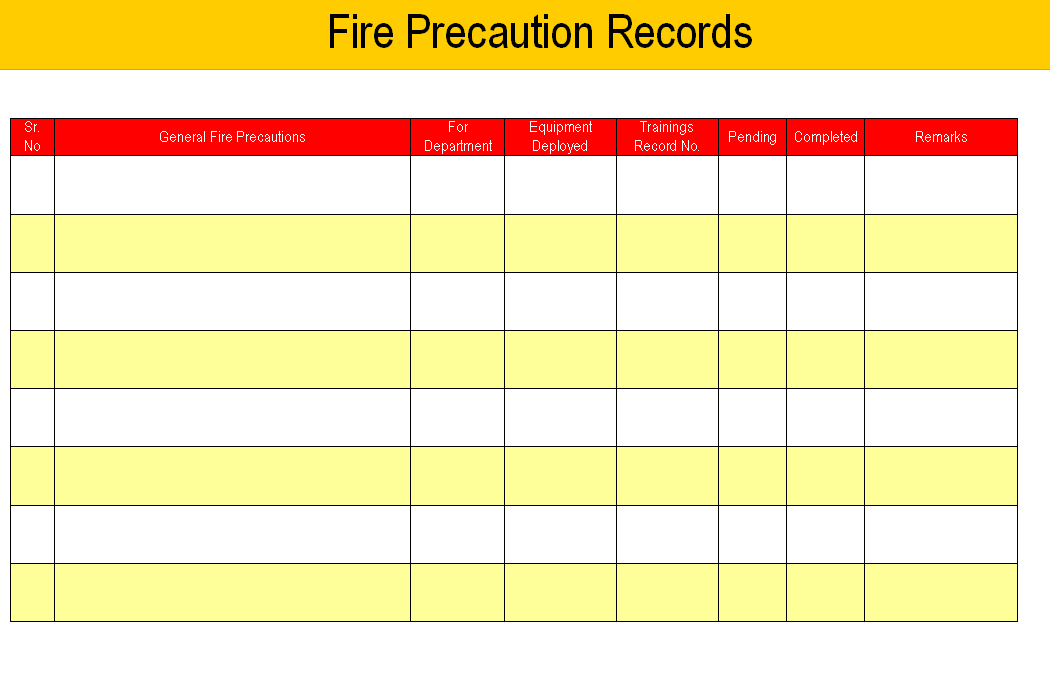 If the company is well expanded, manufacturing process, storage materials, chemicals, gases or any other material that's are highly flammable, fire emergency and its possibility on higher level that fire precaution & fire safety should on priority in company. For the fire safety in company, fire precaution sheet are need to maintain and implement in the company, format / example information is given as below:
General Fire Precaution – All required fire precaution, lines, information, detailed required information is mention for recording.

For Department – there well planned, fire precaution information are maintained for department wise to easier for implementation.

Equipment Deployed – when the safety precautions and necessary equipment required to deploy in location wise where fire emergency and its possibility is higher, equipment that need to deploy.

 Training Record Number is required for the all fire precaution, information and hazard information are passed to peoples whose working within department, equipment used and emergency system and other concern information given in training, record number is training document for all the information given during the training.

Pending – if any fire precaution is not implemented at in location / department.

Completed – All the concern information, precaution and required all the actions are completed.

Remarks – if any required important information for recording purpose.
EXAMPLES, SAMPLES & FORMATS
You would also like to read: