Incoming Material Inspection Plan
Incoming material inspection plan is the part of quality assurance plant, when the material is received from supplier, quality of the product is checked to ensure application requirements and criteria will match.  Incoming material inspection planning through get the information how material's quality testing will conduct, what should parameters are need to maintained and what is possible control measures for it, this information and direction are comes from incoming material inspection plan for quality checking of received incoming materials.
As requirements of quality assurance & reference of picture above, here format for incoming material inspection plan given for download, some basic information are used for the format as below:
Material Code
Material Name
Parameters
Specification
Material Size
Measuring Devices
Method of Checking
Acceptance criteria
Controls
Responsibility
Record form
Generally, for incoming material  can be raw material that is mother raw material for the production and second will be consumable goods that used in the supporting production manufacturing and others department that's consume as requirements of the end users. Both material types are works & use is different hence inspection plan is different, but here we tried to combo format for the both types of materials.
For the consumable goods inspection, checklist type of format also can be used, reason that the material parameters are possible to visually checking. Anyways incoming material inspection plan format is available for download with excel sheet format with below links: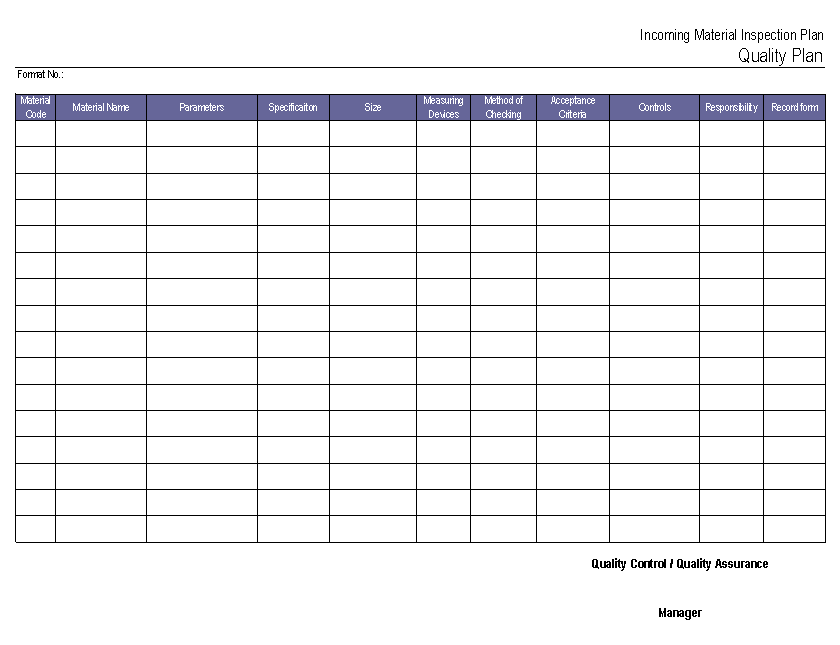 EXAMPLES, SAMPLES & FORMATS
You would also like to read: