Manufacturing Problem identification Sheet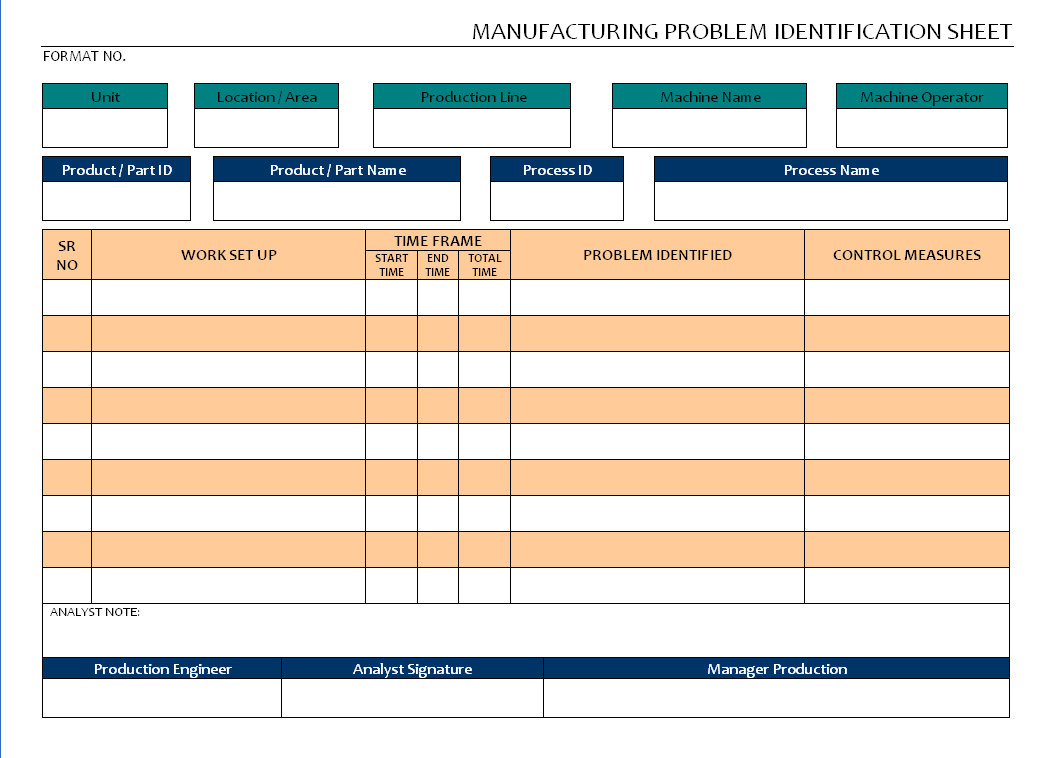 Unit –Name of unit where manufacturing problem identification works taken

Location / Area – Location and area to deep identification.

Production Line – On which line is taken for the manufacturing problem identification.

Machine Name – name of machine on the work set up and process to identification during the operation works are going on.

Name of the operator – Generally during the manufacturing problem identification, skilled operator are preferred for to accurately perform the task.

Product / Part ID – Identification of the product or part that unique number to possible tracking during the various operations in internal works.

Product / part name – name of the product or part which on base of the manufacturing process and its identification the defects in instruction notes, process and procedures for the works.

Process ID and process Name – Identification of the process, In the mostly companies are generating the process identification number to gives the sequence and interaction in processes of the manufacturing to tracking and identify the running and upcoming process through ID. Name of the process are generally company made the name or internationally used, if the process name is internally used with different name that both name should be indicate for the reference.

Work Set up – For the manufacturing process, work setting up is general and necessary that whole manufacturing is depends on it.

Time Frame – for the machine / Process / manufacturing starting time and ending time of the process or work setup is need to calculation by total time used in single work setup for manufacturing.

Problem Identified – During the manufacturing process, observers are finding the problem to ensure the manufacturing process / Work instruction / procedures / Standard operating systems are directing correctly, same for the operating the machine with its best conditions, with proper set parameters and correctly working conditions. Out put of the process is also need to check for the identification of the defects or problems.

Control measures – in case of the any problem identify that what will be control methods, control points and measurements to permanently  controlling on the problem and situation that in future eliminate the problem from the process.
EXAMPLES, SAMPLES & FORMATS
You would also like to read: