Personal Protective equipment (PPE) audit form
To concern safety and health of the workmen, employee in organization, personal protective equipment is very important, maximum used of the personal protective equipment can increase the safety in the industry. As international standards OHSAS 18001 is strongly recommend for the human health and safety of the people who working in organization.
Personal Protective equipment (PPE) can save life as you know very well, Personal protective equipment in plant level most importantly and effective that need to aware the people by training and demo to encourage for the increase use of the personal protective equipment to minimize incident / accident in industry, this is most important part of the safety
Some organization are in beginning gives the training for the safety at plant level, gives the information to each workman to used personal protective equipment. Here personal protective equipment audit form is given as sample format to understand the requirements of the safety in organization.
Through this form, short survey can handle in plant level, personal protective equipment are where required why? All the concern information are collective & given the purchasing to distribute personal protective equipment among workmen to safety purpose. This is very simple survey procedure but is very important and effective to maintain safety in plant.
Some personal protective equipment like safety shoes, hand gloves, helmet and glass as choose are requirement and works requirement are depend to which safety equipment need and what will be technical requirement of the safety equipment. On base of the requirements personal protective equipment are work effectively.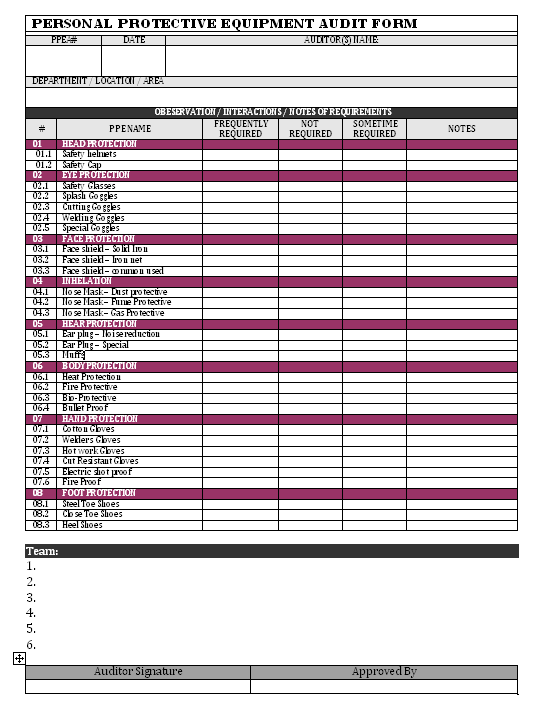 EXAMPLES, SAMPLES & FORMATS
You would also like to read: