Production Downtime Record Sheet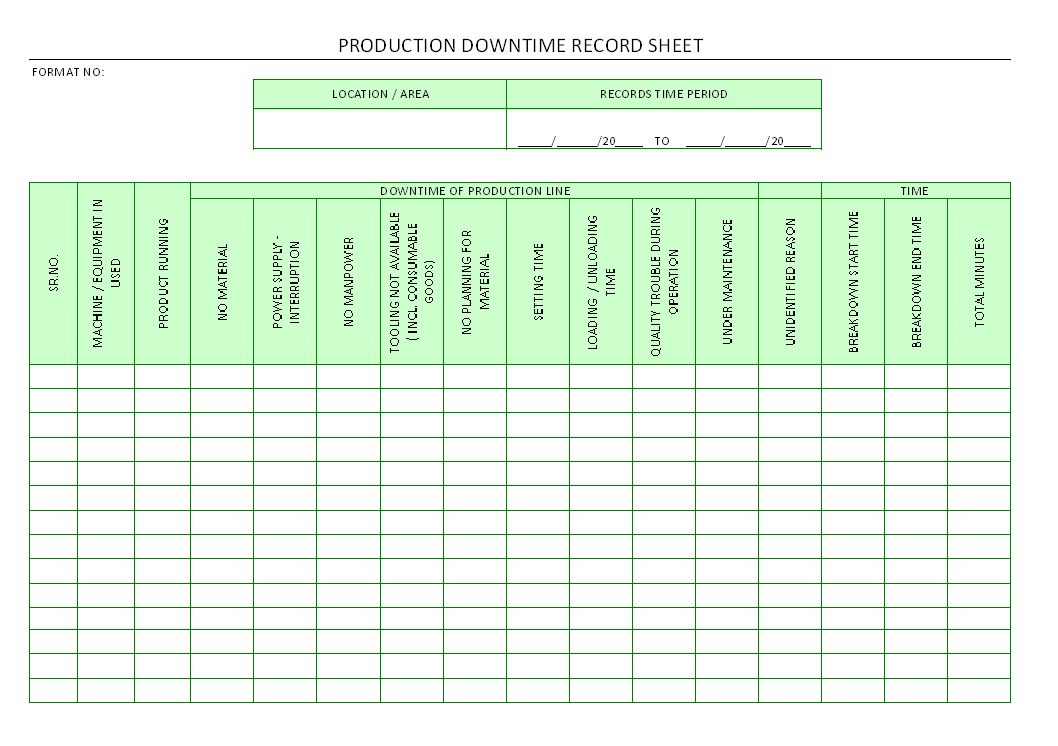 Location / Area – Name of Location / Area of the production downtime noted.

Records Time Period – Details of Time period, during the period downtime is raised on machine

Machine / Equipment in used – in production line, which machine is downtime noted, name of the machine and equipment name that supporting in production line is need to mention

Product Running – Name of the product which is on process in manufacturing production line.

Downtime of production line – Downtime of the production line are specifically mentioned in this format, in case of the unidentified reason that never faced before that name of the unidentified reason name must mention to next time identification, controlling are possible some engineering changes or process change might solve it.
–         No Material
–         Power supply – Interruption
–         No manpower
–         Tooling available – including Consumable goods that used in machine / equipment.
–         No Planning for Material
–         Setting time
–         Loading / Unloading operation
–         Under Maintenance
–         Unidentified Reasons
Time Frame
–         Breakdown start time
–         Breakdown End time
–         Total Minutes
EXAMPLES, SAMPLES & FORMATS
You would also like to read:
MACHINE BREAKDOWN REPORT FORMAT
OVER HEAD CRANE BREAKDOWN ANALYSIS
MACHINE QUALITY CONTROL CHECKLIST
MONTHLY PRODUCTION PLAN FORMAT