Machine breakdown Report Format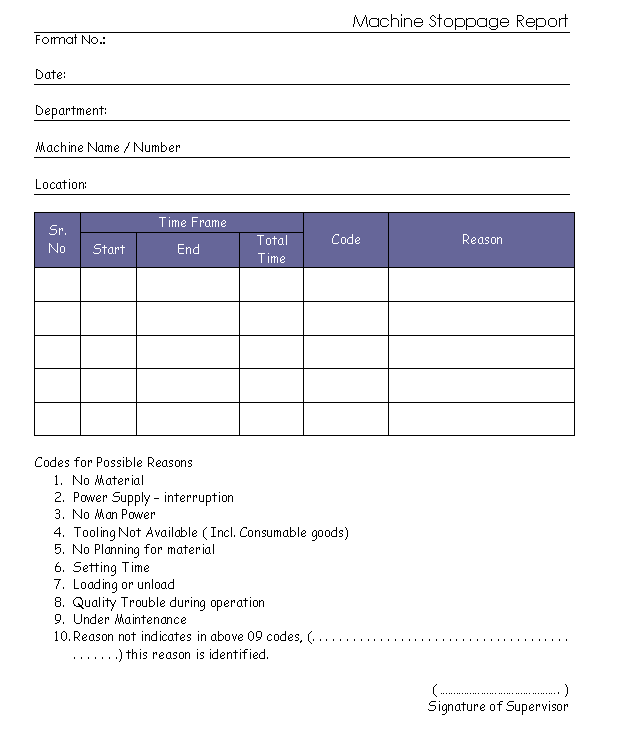 Machines is heart of manufacturing unit that is the reason manufacturer owners are always take care of the machine and its activities same as maintenance department also taken care of machine to avoid breakdowns, but there are also some reasons that machine breakdowns are happen in units as below:
No Material
Power Supply – interruption
No Man Power
Tooling Not Available ( Incl. Consumable goods)
No Planning for material
Setting Time
Loading or unload
Quality Trouble during operation
Under Maintenance
This is only nine reasons that identified for the format of machine stoppage report, but in actual production line various types of stoppages can be possible to found. Those all reasons are need to identify and as per report management enable to take decisions to eliminate each reasons form the machine stoppage report, for the elimination each reason individually analyze and same will be need to take necessary actions on it.
On base of the machine stoppage report, management can get the details, collection data from the production department with each machine stoppage reports are goes for analysis individually, each report having its own reasons that is machine's hard requirements of increase utilizations.
As above nine reasons, last tenth reason is unidentified reason that is comes first time, this variable requirement of the format can possible to increase numbers of reason and same will be possible decrease numbers of reason as management taken necessary actions on number of reasons.
Download machine Stoppage Report format in word document
Machine Stoppage Report examples | Machine Stoppage Report samples | Machine Stoppage Report samples | Machine Stoppage Report template
Related Topics: