Production Schedule vs Actual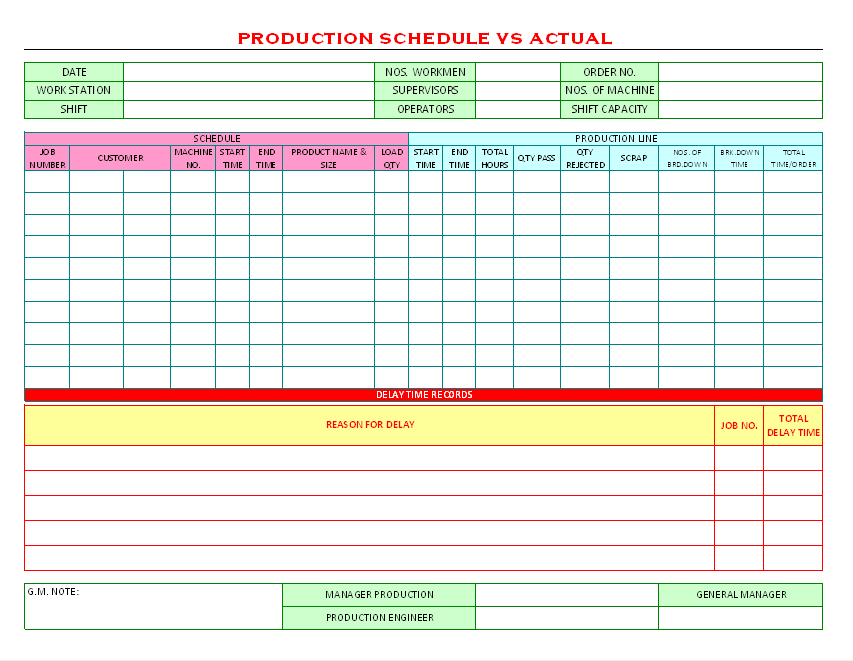 Date – Date of the production Schedule start

Name of workstation where production scheduled and being perform

Shift – As per production schedule against actual production measurements can be shift wise, there also possible that shift wise production schedule against actual production records are maintain separately.

Nos. of workmen – How many peoples will be involved in the production line or per order. Same as supervisors and machine operators records are also maintain.

Order number – Order number is the work order  / sales order / job order etc. are generate from  internally marketing department this order is used by planning department to plan the machine wise / shift wise distribute through job card number. Job order number is used to reference of customer order that internally generated from marketing department that is order number is mentioned.

Shift Capacity – As per production analysis shift capacity can identify and mention to use as reference and reporting view.

Schedule – Schedule are generate / planned by planning department: planning peoples are manage & schedule customer wise or job number wise actually both is same but if the multiple order of same customer are get importance by job number, there are also easier to tracking information through job number to maintain other concern records of planning as well as production. Planning department as the key or trigger tracking number are used as job number and in job number mentioned customer information are recorded at field of schedule, for the particular customer machine number wise planned order quantity for loading at machine, there also planned by planning department when the machine will be start and when stop, as per previous experience and routine operators behavior possible time are deducts in machine overall time. Products that main part of the schedule, by the product, for the product whole scheduled are arranged and maintain, hence the product description should mention that is important part of the scheduling.

Production line is the actual, physical activity that perform in plant level, as per scheduled material are takes for the production line to maintain sequence and follow up of scheduled by planning department. In the production line machine wise production are planned that start time of machine and ending time pf the machine, during time period is used for the total time of the machine, this total time is used as base time frame of the machine. There at loaded quantity balancing passed quantity by in process inspection and rejection quantity, scrap records are maintain, out of total quantity. Same as the quantity center, machine wise breakdowns and its breakdown times are recorded to measuring the total time and against how much times are spend for breakdown time, all the breakdown time are being minus from total time that net available time for the process can get in line with job number.

Delay time records are also very important that calculation frame formatting are supporting, Against the schedule versus actual production time are measuring and calculate that how much time is delayed, this delayed conference are recorded to understand production internal non conformance and problem can raise during the production operations.
EXAMPLES, SAMPLES & FORMATS
You would also like to read: