Quality inspection Requirement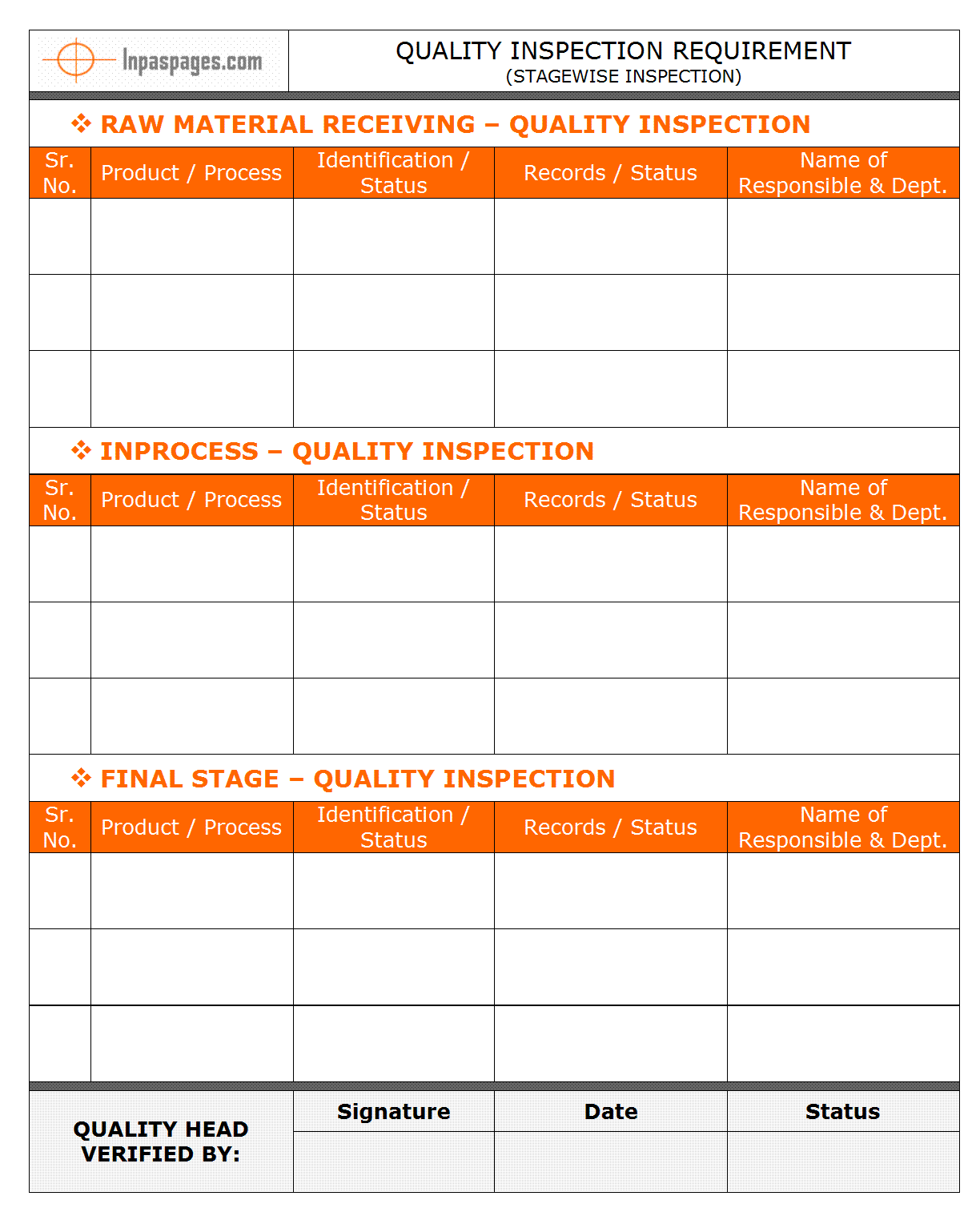 Quality Inspection requirements can be product inspection, process inspection that ensure the material that is product or process / procedure / instruction / flow is correct as requirements of next process parameters. Quality inspection is not just a quality inspection it's a very important activity to depend all others process and stages that taken after the approval of the quality people.
Quality inspection can be measure in below steps:
Material Receiving – primary raw material inspection : Raw material / incoming material inspection requirements are very important for the customer satisfaction, its directly impact in case of the mother material as used with defect can makes a fault on time of installation with application at customer end that stand is very critical can loss of customer forever, that is the biggest reason that incoming material inspection should be cover all the parameters are required for the inspection testing as well also match the requirements of the quality people form customer as base on application's suitable criteria that customers are gives as technical sheet on time of place the order, all the technical details are comes along with customer purchase order, hence in case of miss the technical data with purchase order, its all supplier duty to ask to customer for technical requirements.
In incoming material / raw material are primary or default fault can cause major impact on final product, so its very important, quality peoples are generally cover the material chemical / physical / dimensions / packaging / sizes / Qty / Tags / material Specific details / Colour codes etc.. Basic that is need to cross examination as inspection of material, in the same way raw material process is also need to verify of material that received by supplier.
In-Process Quality Inspection: When material move from the one production stage to second production stage, off course material will be changes as physically and can possible chemical also changes as your internal process, but there almost possibility is change material as physically, when material sizes, physically change happen there must quality inspection are need to check out the material lot / batch are produced correct or there are defects? To ensure the material can move for the next step for production line, there quality inspection by the take sampling or any other systems as depends on product and production method, but quality inspection is primary requirements on each stage of the production line to ensure the material moves with zero defects.
Final Inspection: Primary and very important requirements that all the stage's result are comes to quality department as final product for the quality checking, its very challenging & respective environment, quality approval is only way for the material move of packaging  or material dispatch, reason is all the defects / faults are visually, dimensionally, by various tests or any others methods used as requirements of product and process of the company individually, but final product's approval is very important stage for quality department.
Quality Department take a care to check all required parameters are defined to approval of product for dispatch are maintained. Some products are also need to final quality checking after the packaging the material, some company are takes as samples after the material packaged its all depend on product requirements.
Download Quality inspection Requirement for Raw material – Example / Sample / Format
Download Quality inspection Requirement for in-process material inspection – Example / Sample / Format
Download Quality inspection Requirement for Final Product inspection – Example / Sample / Format
Quality Control / Quality Assurance: Formats / Template / Examples / Samples
———————————————————–x———————————————————–
Related Topics: